Malton: King Charles and Queen Camilla chat with the crowds on a visit to the 'food capital of Yorkshire'
It was a jovial crowd that braved the rain for what may yet be one of the greatest Royal moments in Malton's living history.
Watch more of our videos on Shots! 
and live on Freeview channel 276
Visit Shots! now
As the King's cavalcade drew close there were cheers and cheerful waves. To some they were delighted, others simply struck by the scale of sudden events. There had been no grand notice, no fanfare or bunting, just a King and his Queen Consort.
This was a visit quietly scheduled to meet with local charities and the artisan traders for which Malton is now known. And even as the rains came the Royal couple took their time, shaking hands almost the length of the line, thanking wellwishers for their time.
For Edward Owen, aged nine and wearing a Union Jack poncho, Camilla had delivered a high five. "I like your outfit," she told him.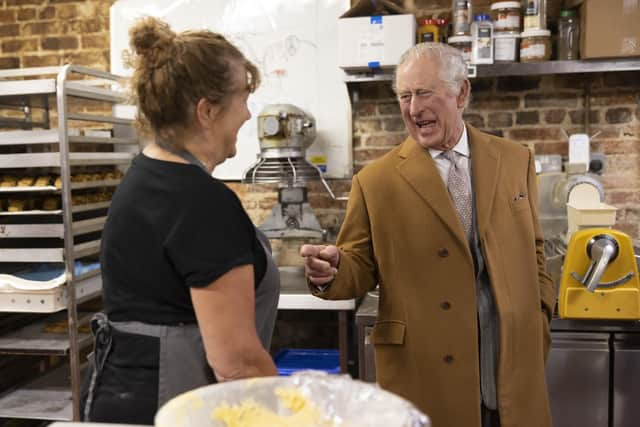 Edward's mother Sarah, with little sister Kitty aged five, added. "I remember I did it with my mum, when I was five," she said.
Yesterday's Royal visit saw King Charles and Queen Camilla meet food and drink producers and shops at Talbot Yard Food Court.
Evette Jane, of Pickering, was proud as punch. Her daughter was playing in the Swinton and District Excelsior Band to welcome the Royal guests. There was a rendition of Blaydon Races. Then came the crowds, as word spread.
"My grandmother always wanted to see the Queen, from when she was a little girl," said Caroline Wilford. "She never got the chance, I couldn't miss this opportunity."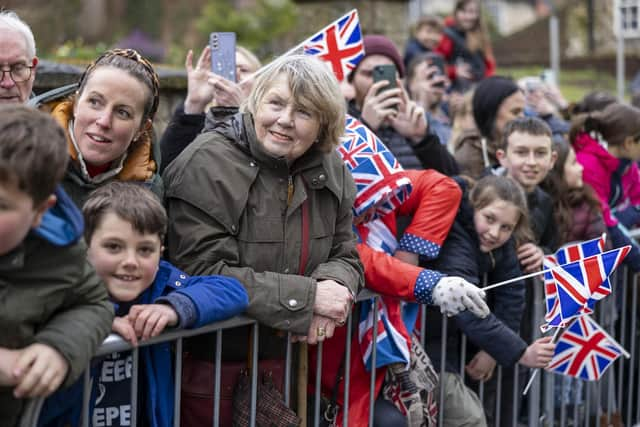 Shirley Gray, 86, is wearing double union jacks as a hat. She had been seven years old when the first time she went to see the Queen. "I just love them," she said. "I'm so excited to see the King. I already had the hat - we're having a Coronation party."
And Canon John Manchester, a former vicar of Old Malton of some 34 years, who can remember when Princess Margaret would join his congregation on private visits to the area.
"We are delighted that they are here," he said. "It's very kind of them to come to Malton and pay us a visit."
At Talbot Yard Food Court the Royal couple met six artisan food producers, including a butcher, a baker, a gelataria, coffee roastery, distillery and a macaroon maker.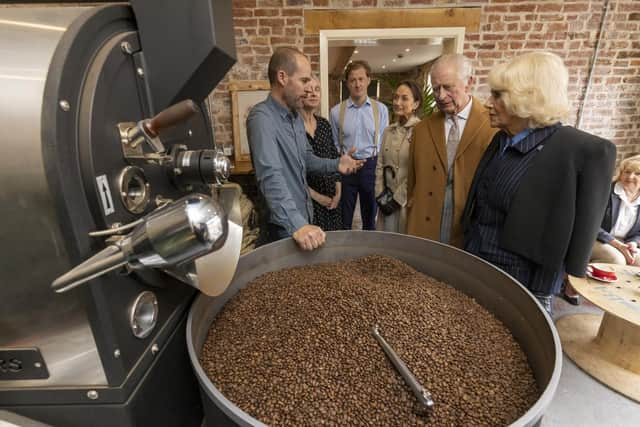 Paul and Kieran Potts, of family-run butchers Food 2 Remember, said the visit had been "superb".
"We just had loads of banter," said Mr Potts. "He was very happy about the way we do things. How it's local, and sustainable. He also told us he doesn't like spring lamb, he prefers a more mature flavour with a hoggat. With our pork chops, he said 'this is how it should be'."
The pair had jested over Mr Potts' name, and any confusion with the famous opera singer. "I can do what he can after a few pints," Mr Potts had told the King, which had prompted a laugh. "He was proper chuckling."
Pastry chef Florian Poirot is famous worldwide, most notably for his macaroons. He presented the Royal couple with a box of nine. He made sure one was gin and tonic flavoured, featuring ingredients from Rare Bird Gin Distillery next door, and that another was coffee flavoured, from the yard's Roost Espresso Bar.
"It was a nice little link," he said. Mr Poirot shared a lemon and bergamot macaroon with Camilla - for the King it was "too sweet", he said. "She tried it and said it was amazing. Actually, she said it was 'tres bon'.
"The highlight for me is of course the King and Queen coming to our little shop," he added. "Then my son Thomas - he's two-and-a-half, he handed the bouquet to Queen Camilla. "He doesn't realise it yet but in a few years.... it's just amazing."
As the visit to the Yard drew to a close it was over the road to York House to meet with local charities. Lord-Lieutenant of North Yorkshire Jo Ropner said the King had been "so impressed", adding that it was "wonderful" to see the impact in a small market town when it came to celebrating its people - and its spirit.
"Malton is particularly known for this," she said. "Everything is very independent - the shops and restaurants. It makes for a thriving food economy."
And Tom Naylor-Leyland, as the man behind Malton's reputation as the food capital of Yorkshire. The day, he said simply, had gone "brilliantly".
"It was simply the greatest event and such a thrill to welcome their majesties to Malton," he said. "It's quite something. A really important day for the town."