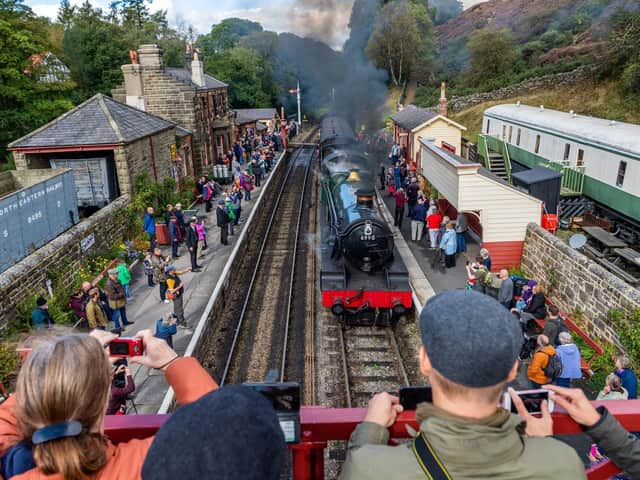 Goathland Station
The North Yorkshire Moors Railway intends to start running passenger services again on August 1, having suspended operations March and postponed the season launch.
The planned date means the railway will be able to begin recouping costs from its lost spring season during the school holidays, traditionally its busiest time of year.
At the beginning of the lockdown period, NYMR managers feared the railway's very existence was under threat and several high-profile events were cancelled.
Volunteers at Pickering Station
In a normal year, trains only run between April and October, with some specials over Christmas, so the revenue generated over the spring and summer funds maintenance and restoriation costs incurred throughout the year.
Supporters and well-wishers have donated £350,000 to keep the railway going after bosses admitted they faced losing up to £1million in ticket sales. As it has charitable status, government support has been limited.
The NYMR is a registered charity and relies on passenger use and public support to raise money for the maintenance of its historic locomotives, rolling stock, track and stations.
The 1940s weekend and 1960s music festival were both called off and the autumn steam gala, scheduled for September, has now been cancelled as well to save costs.
The railway depends on a large volunteer force, many of whom are aged over 70 and in at-risk groups.
It has grown into a Yorkshire icon since a group of steam enthusiasts took over the branch line from Pickering to Grosmont that was axed in the Beeching cuts of the 1960s and opend it as a tourist attraction.
Films and TV dramas including Harry Potter, Downton Abbey, Dad's Army and A Testament of Youth have all been shot on the railway, and it's also been the subject of its own Channel Five documentary series, All Aboard: Yorkshire's Steam Railway.
It is licensed to host weddings, but bookings for spring and early summer 2020 had to be cancelled or postponed.
There are 100 paid employees as well as around 1,000 volunteers.
General manager Chris Price said he was 'optimistic' about the NYMR's future after the public response to the appeal. Local businesses also offered donations, as did the rail industry.
Virtual events such as silent auctions, a shop launch and quizzes were all held for supporters during lockdown.
There have also been high-profile fundraising appeals for two other Yorkshire heritage lines, the Keighley and Worth Valley Railway - which generated income by agreeing to store Pacers not in use by Northern during the lockdown - and Wensleydale Railway.