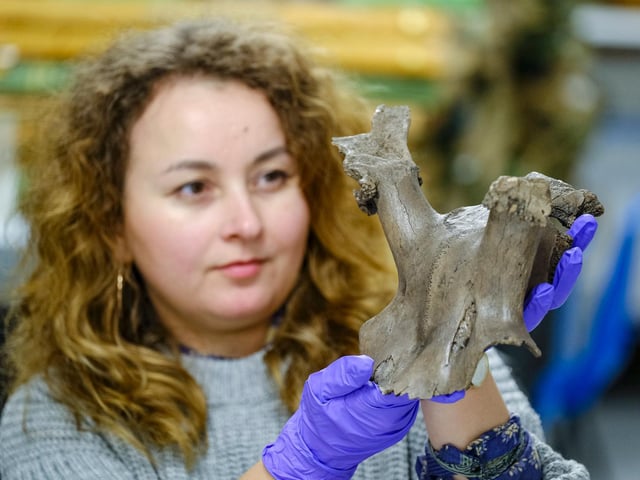 Ela Bochenek, documentation assistant at Scarborough Museums Trust, with the Star Carr antler headdress
Visitors will be able to see 11,000-year-old artefacts including an antler headdress, barbed points, birch bark rolls, flint tools and animal remains from Tuesday October 20.
Star Carr is just south of Scarborough and dates to around 9,000 BCE. It is world famous due to the preservation of rare artefacts buried deep in the peat.
The objects on show at the Rotunda will cast light on the lives of our ancestors. The antler headdress, or frontlet, is thought to be made from the skull and antlers of red deer, and was probably used for ceremonial purposes.
The barbed points, also made from red deer antlers, were probably used in hunting and fishing. They are a rare find – 227 have been found at Star Carr, accounting for 92% of all barbed points known in England.
The exact function of the birch bark rolls is unknown – theories range from floats for fishing nets to torches and firelighters.
The exhibition will also include two films, one film featuring animation by illustrator Savannah Storm, introducing each object, the other filmed by artist Annabel McCourt and including schoolchildren from Hertford Vale C of E Primary School interviewing Nicky Milner, Head of the Department of Archaeology at the University of York, former director of excavations at Star Carr.
Jim Middleton, collections manager at Scarborough Museums Trust, which runs the Rotunda, says: "Star Carr is one of the most important Mesolithic sites in Britain. What sets it apart is the level of preservation. Waterlogging has preserved not just the usual stone tools, but organic material such as wood, plant remains and animal bones that are rarely recovered from this period. The excavations have given us a unique insight into what life was like for the people living in the Scarborough area over 11,000 years ago as well as what environmental changes have occurred."
The Rotunda Museum currently has a booking system which allows in one group (or social bubble) of up to six people at a time, creating an exclusive visitor experience.
The venue has been awarded the VisitEngland 'We're Good to Go' industry standard mark, signifying that it adheres to government and public health guidance.
The Rotunda Museum has a lift to all floors and is fully wheelchair-accessible throughout, including an accessible toilet. Support dogs are welcome.
Entry is by annual pass, which costs £3 and gives unlimited entry to the Rotunda Museum and Scarborough Art Gallery for a year.