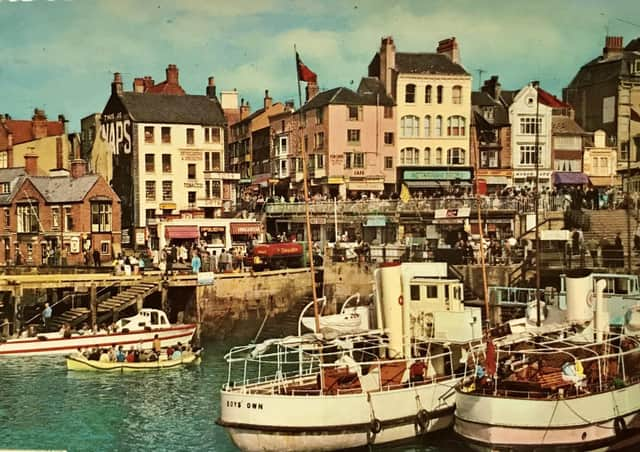 This postcard shows a busy harbour scene from the 1960s. Image submitted
The postcard dates to the 1960s and shows a view across the harbour towards Harbour Road and Garrison Street.
It showcases a bustling summertime scene and several great excursion boats of the time.
Mr Jones has tried to reproduce the harbour scene from the same aspect.
Aled Jones tries to reproduce the image with this modern day photograph.
He said: "A glance at the modern photographic comparison will reveal how little the harbour and quayside have altered since the picture postcard was taken, apart from a wing of the harbour offices building that's been turned into a much-loved heritage museum.
"Beautifully pictured, in the middle foreground, is the famous Boys' Own vessel. She was built in 1938 at Beverley and was renamed Flamborian after being modernised in 1968. The ship saw active war service but returned to Bridlington in 1945 to resume taking holidaymakers for trips around the bay.
"She continued in local service until June 1998 when she was sold to an excursion company at Swanage, Dorset, and aptly renamed Swanage Queen.
"Her present, less industrious home is the Seine River in Paris, France, where she's in use as a unique houseboat.
"As the postcard also reveals, a small red and green diesel lorry is parked up in front of the wooden jetty.
"It appears to be unloading canisters of diesel, presumably for use by the fishing boats and excursion ships. This in the days before the diesel filling station on the South Pier.
"The large building situated on the corner of Prince Street is the former Brigham's photographic shop, with its prominent advertisement 'This Is Snaps'.
"It will be fondly recalled by many readers as the point from which they collected their holiday pictures, originally though it had been a rather fine private residence with superb sea views. Like many photographic outlets, it's sadly not survived the emergence of modern digital photography.
"The view along Garrison Street clearly shows all the wonderful shops and cafes operating at the time.
"Interestingly, the flight of stone steps (centre, far right) is much older and far more historic than some readers may imagine, having led to and from the former Royal Victoria Rooms (built 1847), a building which housed the Town Hall before it was destroyed by fire in September 1933.
"The mock-Gothic structure was awarded royal status in 1888 after a visit from Prince Albert Victor, Duke of Clarence and Avondale, grandson of the reigning British monarch Queen Victoria."