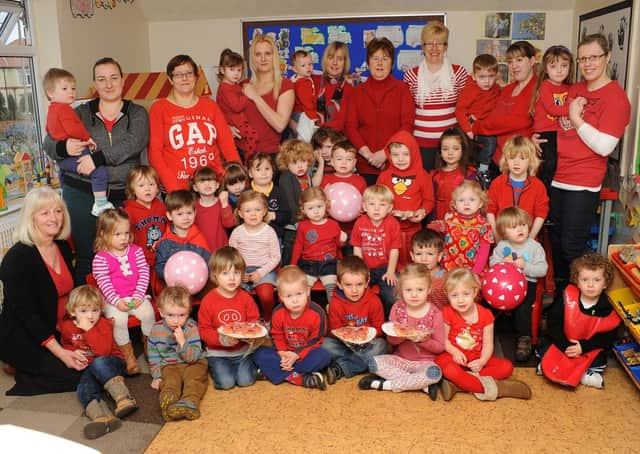 Children and staff at Cliffe House Nursery, on Third Avenue, wear red to raise funds for Leeds General Infirmary in 2013. Do you recognise any of the people in the picture? Photograph taken by Paul Atkinson (NBFP-PA1309-4)
We love to hear your memories on the pictures we feature, including if you can put names to the faces.
We also love to see your nostalgia pictures that you would like to share with readers.
Staff at Ideal Building Systems in Carnaby took part in a 'Man Vs Food' Charity Night back in 2013. (NBFP-PA1309-13)
Garlands Newsagents changes hands in 2013. Pictured are John Dixon, Robert Ayliffe, Mike Simpkin and John Pitwood. (NBFP-PA1309-5b)
A police presentation to Lifestyle groups at Headlands School in 2013. Are you one of the pupils in the picture? (PA1304-9)
Marie Curie fundraising committee members thank the local community at this Ship Inn Sewerby cheque presentation. (PA1304-8)
Bridlington Sports College launches an achievement scheme at the Pod which was based in the school grounds in 2013. (PA1304-12b)
Families enjoy the winter conditions at Sewerby Park following some heavy snowfall back in 2013. (PA1304-15d)
This photo shows a skateboard coaching session at Bridlington Gas Works Skate Park in 2012. (PA1232-1l)
Flamborough School new starters are pictured with Dawn Wardell and Morag Sinclair in 2012. (PA1239-12b)