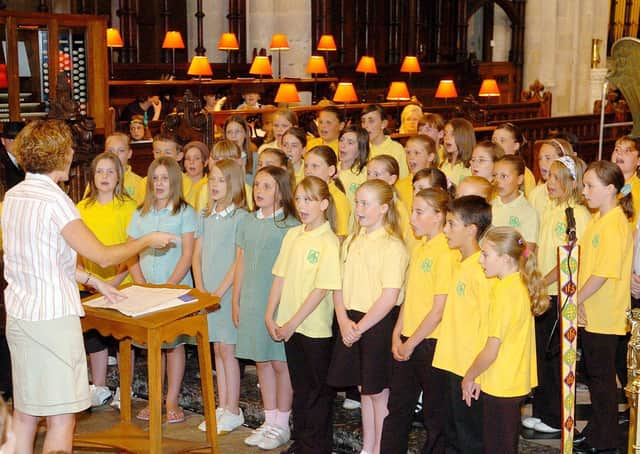 Miss Beckett conducts Burlington Junior School choir at Priory Church to start the Old Town Festival in 2006. Do you recognise any of the people in the picture? Photo taken by Paul Atkinson (PA0628-27)
We love to hear your memories on the pictures we feature, including if you can put names to the faces.
We also love to see your nostalgia pictures that you would like to share with readers.
Two girls football teams (Under 10s and Under 11s) show off their new sponsored kits at Flamborough in 2004. (PA0415-35)
A huge crowd turns out to watch the popular jousting event at Sewerby Hall in 2006. Photo by Paul Atkinson (PA0616-2k)
Six ladies complete Bridlington's Race for Life in 2013, held at Sewerby Hall and Gardens. (nbfp-msh1325y530)
Bridlington Harbour was sealed off due to a suspected bomb being brought ashore by a fishing boat in 2006. (PA0608-3e)
This photograph shows a great turnout for this Dave Grosse soccer coaching session at Hilderthorpe School in 2007. (PA0730-13h)
Hilderthorpe Infants School new starters are pictured with Mrs Stone and Mrs Roberts in 2007. (PA0737-5a)
The Race for Life at Sewerby Hall in 2007. Do you recognise any of the people in the picture? (PA0724-25ww)
Staff and friends from Quay Primary School ahead of the race for life in 2006. Photo by Paul Atkinson. (PA0623-29h)