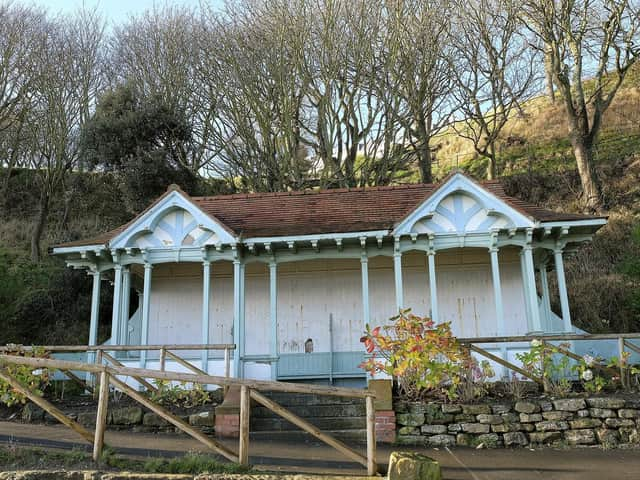 The shelter in South Cliff Gardens
The seating in South Cliff Gardens is described by Historic England as: "a structure that captures the spirit of Scarborough's notable and long-standing social history as an important seaside resort".
The Grade II listing means the shelter gains extra protection from any future development of the area.
The application to Historic England for listed status came from Chris Perry, a member of Scarborough Civic Society.
The shelter has been grade II listed by Historic England
"Consultants working on the restoration of the garden said the shelters were of historic interest, and I took that as a hint," she said.
The seating is one of 13 in the gardens but the only one Chris could find enough solid information about for an application.
The decorative blue and white shelter was created by architect Frank Alfred Tugwell and built between 1897 to 1909.
It was restored in 2007, with the reinstatement of some lost moulded principal uprights, timber wall cladding and seating, and was repainted in 2015.
The shelter enjoys fantastic views across Scarborough
Trevor Mitchell, Regional Director for Historic England in the North East and Yorkshire, said: "Every year we work to identify the most significant historic sites across the country.
"Despite the challenges that we have all faced this year, 2020 has seen many brilliant additions to the list in Yorkshire and beyond.
"We want to ensure the region's rich and varied cultural past is recognised so that the public can continue to enjoy the heritage that makes their local places so important."