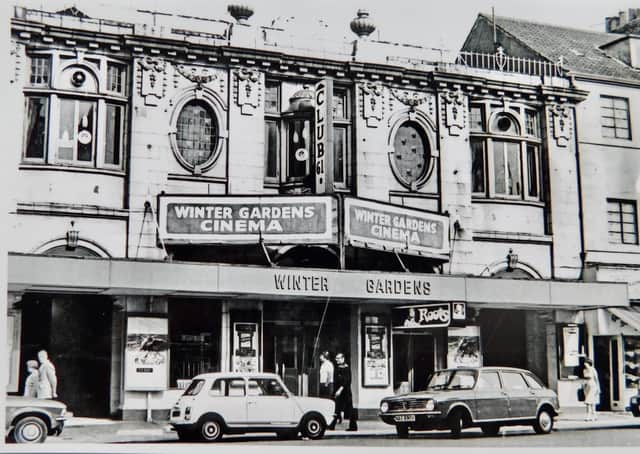 The Winter Gardens Cinema on the Promenade is featured in this excellent postcard.
This week, he looks at the magnificent Winter Gardens Cinema which was based on The Promenade.
Mr Jones said: "What a fabulous photographic memory of one of Bridlington's iconic former buildings, the Winter Gardens Cinema on the Promenade, which proudly opened as the Coliseum Cinema on April 19, 1922.
"The cinema was state-of-the-art equipped and had a restaurant in the circle foyer and a ballroom under the stalls, which later became a roller rink, billiard hall, nightclub and finally a BMX track.
The area on the Promenade has been put to used as a car park.
"At the outbreak of WW2 Bridlington actually had four other cinemas, so hugely popular was a visit to the silver screen, namely the Lounge, the Palace, the Regal and the Roxy. However, the two earliest cinemas were situated in the Victoria Rooms on the harbour and the Grand Pavilion on Royal Prince's Parade, both completely demolished in the 1930s.
"The Winter Gardens probably had its heyday in the 1960s when it would be full to capacity every single night during the summer, showcasing huge blockbuster movies like The Sound Of Music, A Man For All Seasons and Chitty Chitty Bang Bang.
"It very sadly closed as a cinema on February 7, 1982 with the Spa Theatre taking over showing films until the Forum Cinema opened in 1992. The entire building was declared unsafe and demolished in 1991.
"Interestingly, when the picture was originally taken the movie being shown (note the billboard) was The Empire Strikes Back, which confidently dates it to 1980. Note, too, the small bakery next door. Also clearly visible is the sign for Roots, a popular nightclub situated in the basement.
"As you can see from the modern photographic 'replication' the site has (some would say undaintily) been left as a large empty space that's been put to use as a car park, an ignominious end to a fine Art Deco period building."