The Bridlington 'Now and Then' column with Aled Jones: Whale's sad demise used on best-selling postcard
Historic postcard collector and prolific photographer Aled Jones has sent in another set of 'compare and contrast' images for the Brdilington Free Press readers to enjoy.
Friday, 7th May 2021, 11:50 am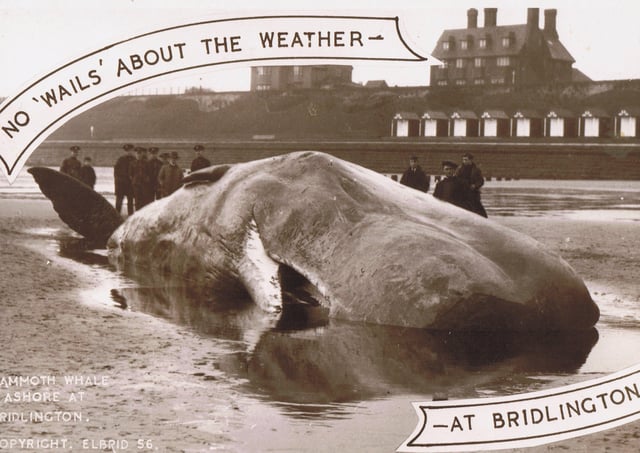 This sperm whale, featured in this postcard, was taken to the Natural History Museum in London.
This time he has used a very unusual vintage postcard of Bridlington created just before World War 2 – an image of a sperm whale which was beached on the town's south side.
The stranded whale was discovered on January 1, 1937 and it's death attracted plenty of media attention.
Mr Jones said: "Most visitors who head for the beautiful south beach today don't realise they're walking in the footsteps of a giant – an adult sperm whale, to be precise.
The site in Bridlington as it is today. Photo by Aled Jones.
"For just before the start of the Second World War, a mammoth specimen got stranded on the Bridlington coast and sadly died.
"Here is a vintage sepia postcard from the period that shows the unfortunate creature being looked over by curious local officials.
"The men to the left appear to be wearing full army uniforms. The marine tragedy took place on January 1, 1937 and attracted a lot of media attention at the time.
"The local tourist industry, seeing a lucrative opportunity, couldn't resist the temptation to pun rather distastefully on the poor creature's demise to produce its best-selling picture postcard.
"The sperm whale was taken to the Natural History Museum in London where it was buried and left to decompose so that its skeleton could then be studied and catalogued.
"When measurements were made the creature turned out to have a five-metre-long skull, making it a very large specimen indeed.
"The old postcard has been replicated to show the same view as it appears today, with, as you can see, the addition of modern housing replacing the large chimneyed dwelling to the right..
"If you look at the sea wall in the background you can also see how much the beach level has risen since the 1930s.
"It is my humble way of honouring a magnificent sea creature that died on our shoreline some 80 years ago and whose noble aura can still be felt at the location today.
"As an extra point of interest, sperm whales can dive to depths of up to 1000 metres and stay there for up to two hours, they also have the biggest brains of any creature on the planet."