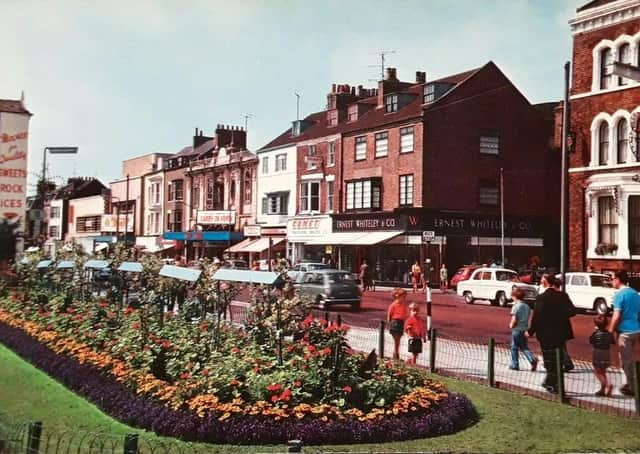 This old photograph shows the Grand Pavilion Theatre gardens in all their glory.
His latest photograph-postcard comparison features the beautiful gardens of the former Grand Pavilion Theatre on the Promenade.
Mr Jones said: "Old postcards can give us an amazing glimpse of a place's past and how it appeared in an exact snapshot of time.
"They can also provide fascinating evidence of how much, or how little, that same place has changed since the original photo was taken.
The site on The Promenade as it looks today.
"For lovers of Bridlington's rich history here's a colourful old postcard from exactly 50 years ago, showing the beautiful gardens of the former Grand Pavilion Theatre, built in the Art Deco style in 1937, on the town's Promenade.
"A great many people alive today will still fondly remember the splendid bygone scene.
"This old postcard really shows these gardens in all their past glory and just how orderly and well tended they looked.
"What a rare delight they must have been for residents and visitors alike. The building they embellished eventually became the Three Bees Cabaret Bar with seating for 1,100 people making it larger even than the Spa Theatre. It was demolished in 2014 to make way for the town's new state of the art £25m leisure centre.
"Quite extraordinarily, one very notable business in the postcard has stood the test of time and still opens its doors daily as it's done since it first opened way back in 1901, when Queen Victoria was on the throne. I am, of course, referring to the nationally renowned draper's outlet Ernest Whiteley and Co.
"What strikes you most about the shop is its interior, which has changed very little at all, still retaining many of its period features, a visit is truly like stepping back in time.
"As a primary school pupil in the town, I warmly remember Mr and Mrs Moore's traditional sweet shop in the left corner of the original picture, which is now the Jacob's Well Christian book store.
"Likewise, I've many fond memories of the old Winter Gardens cinema (centre left) and all the compelling movies enjoyed there.
"Opening in 1922, it was very popular with holidaymakers and day trippers, especially in the 1960s when The Sound of Music actually ran for two consecutive summers.
"As you can see from the modern 'replication' there are now purpose built flats and an off-licence where the impressive early Victorian town house shown to the right of the postcard used to proudly stand.
"I've not been able to research why this architectural gem, which today would probably be a Government listed building, was pulled down."