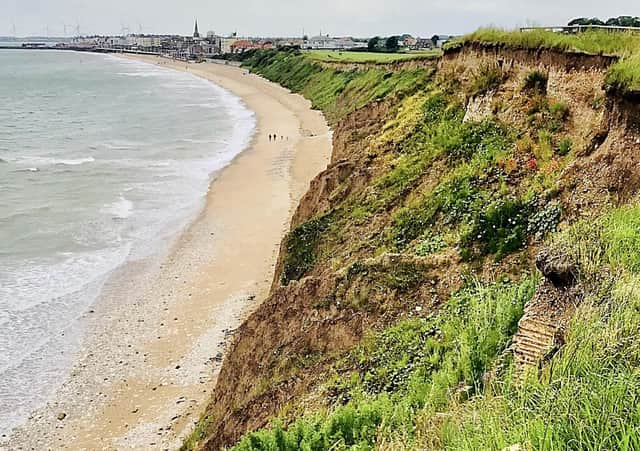 This photograph by Aled Jones shows Sewerby Steps as it is today.
Mr Jones, who regularly tries to replicate scenes of old postcards by taking photographs of the areas featured, shows the changes at the site dropping down the cliffs.
Mr Jones said: "Here is a fascinating vintage postcard (circa 1950) showing a prominent structure built directly into the cliff-face not far from Sewerby steps. It appears to be a coastal look-out post constructed to monitor enemy activity taking place in Bridlington Bay during WW2.
"This one has disappeared but there are several still standing along the Yorkshire coast, mostly in ruins. The 'mystery' structure may have been demolished in the early 1950s or else it collapsed into the sea leaving hardly a trace.
This classic postcard from 1950 features a coastal lookout post.
"But if you look carefully at the modern photographic 'replication' you can see, middle right, a very small remnant of the original edifice.
"Of course, military look-out posts were just as common inland, for example Carnaby Temple, an octagonal folly built in 1770 by the Strickland family of Boynton Hall, which was also employed in the war effort. Note, in the original postcard, how the lady and boy have been exploring the inside of the lookout post and are descending steps that presumably led all the way down to the north beach.
"Looking up the beach, many changes have since taken place in the overlooking fields, not least the disappearance of the sizeable brick structure near to where the new Coastguard Station opened in 1987 (middle right in postcard). This was, in actuality, a practice rifle range used to train WW2 soldiers. Behind the look-out post, the army wisely constructed giant concrete sleepers designed to deter enemy planes from landing there, on what was something of a natural airstrip.
"Are there any readers of the Bridlington Free Press who remember this historic structure in its glorious heyday?"