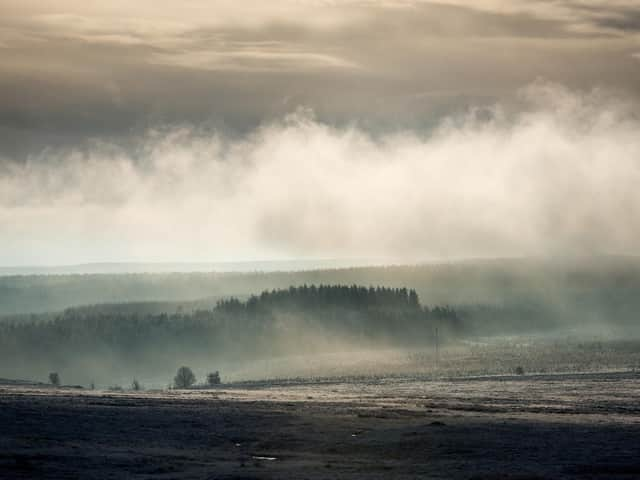 Fylingdales Moor
The find was made by Scarborough and Ryedale Mountain Rescue Team during training on Fylingdales Moor this week.
They sent a photograph of the explosive to North Yorkshire Police, who then sent to officers to the scene. A bomb disposal unit from Catterick Garrison was then called out, and its safe detonation was arranged.
The discovery is a fascinating throwback to the area's past use as a firing range during the war years.
The current RAF Fylingdales base is built on the site of a mortar training area at Snod Hill that was in use until the 1950s. A huge moorland fire in 2003 exposed a range of forgotten military features, including foxholes, shell craters, slit trenches and tank tracks which had been hidden for 60 years.
The adjacent Howdale Moor still has foxholes, spent cartridge cases, rusting metalwork and other signs of its previous incarnation. The spot is a major draw for amateur metal detectorists, who have found live shells in the past.
The entire site had to be cleared by bomb disposal experts so that the RAF base could be built in 1962. RAF Fylingdales is a radar and listening station that played a key role in Cold War intelligence detection.
The remote location of what is now the North York Moors National Park made it ideal for military training. The Fylingdales Moor range was called Jugger Howe, and was one of the main army training bases at the time. The landscape remains pock-marked by shell craters today.
There were also extensive coastal defences installed after Dunkirk, with pillboxes, concrete bunkers and look-out batteries built near Runswick Bay and Robin Hood's Bay. Some of these can still be seen today.
RAF Danby Beacon was in place on the moor tops from 1937 until 1957. It was a radar site that provided early warnings of air raids. In 1940, it guided aircraft from 43 Squadron to the location of a Nazi bomber which was then shot down over Whitby - the first enemy aircraft to fall on English soil since World War One. The action was led by RAF pilot Peter Townsend, who later became famous as the lover of the Queen's sister, Princess Margaret, after the war.
There was also a decoy 'town' with fake buildings and street lighting on Sneaton Moor, which was meant to deceive Nazi bombing crews into thinking they had reached Teesside.