14 photos of life in Scarborough 30 years ago
In some ways life is unrecognisable compared to 30 years ago, but certain things continue on through the decades.
Thursday, 3rd June 2021, 12:57 pm
Updated
Thursday, 3rd June 2021, 1:00 pm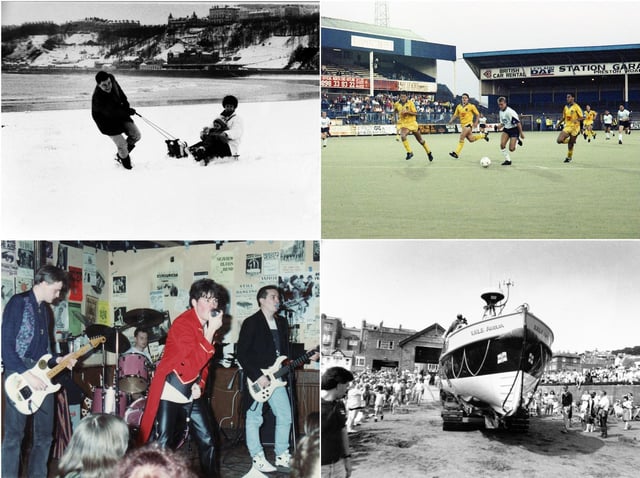 Clockwise from top left: Snow on South Bay, Football at Preston North End, Lifeboat launch, local band. Pictures: JPI Media
We've taken a dip into the photo archive to see what was going on in Scarborough in 1991, what has changed and what remains. Were you living in the town 30 years ago, do you remember any of these?
The climate crisis may seem a new issue but these pupils are Friarage were learning about pollution 30 years ago.
One of the more dramatic moments from the year, in June 1991 the amusement park suffered a devastating fire.
Scarborough Football Club were in the Football League, seen here playing Preston North End in the League Cup 1st Round on August 20 1991. Preston won the match 5-4.
Back in May 1991 James Martin was only dreaming of becoming a TV chef, pictured here, centre, receiving a chef award at Scarborough Technical College. Also pictured are Sarah Black, left and Alex Roe, right.
One thing that never changes is the unpredictable weather on the Yorkshire Coast - exemplified here by snow on South Bay enjoyed by David and Joy Wilcox, 3-year-old Elizabeth and their dog, Mitzy.
Scarborough Harriers trophy winners in October 1991.
The Scarborough Royal Engineers Association celebrated 40 years in March 1991. Sapper George Hoff (front, 2nd left), proudly received an award from the association, presented to him for founding the Scarborough branch.
This group of Beavers were collecting cans for charity, check out the retro branding.
On August 14 1991 Scarborough's retiring lifeboat, the Ameila, drew about 3,000 spectators when she made her last public appearance.
Burniston Barracks were still there - the area looks very different nowadays.
This local band demonstrate some of the alternative fashions of the day, many of which are back in style today.
It may have been 30 years ago but people were still getting caught in drizzly weather on the beach.
The cars may be different but the buildings look familiar, as does the sight of tourists on Foreshore Road.
The younger generation enjoying some live music.