Forgotten views of Scarborough - 26 spectacular photos of the town from the early 1900s
Here are some wonderful photos showing Scarborough as few will remember it.
Friday, 13th March 2020, 12:02 pm
Updated
Friday, 13th March 2020, 12:04 pm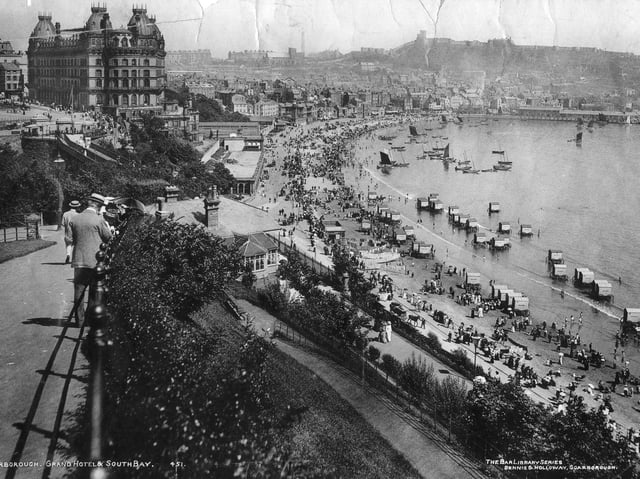 A general view over Scarborough South Bay with the Grand Hotel in 1990. Hulton Archive/Getty Images
Much has changed but the allure of our town has stayed just as strong for tourists over the past century and it seems donkey rides, mini golf and enjoying those beautiful beaches are perennial favourites.
The starting line of a donkey race on the beach in around 1913.
In June 1908 crowds gather to watch a Punch and Judy puppet show on the beach.
A public swimming pool in 1930.
A view of the Foreshore in 1935 with advertisements for Lady Wrestlers in the background.
A high dive into the bathing pool at South Bay in June 1917.
A game of Bowls in progress on the bowling green in Clarence Gardens with North Bay in the background around 1913.
'Arcadia' on the beach around 1913.
Scarborough footballers take a seaweed bath in preparation for an FA Cup match on November 26 1937.
A giant wave dwarfs a car on the seafront on August 8 1931.
This photo is from around 1900 and shows a view of Victorians enjoying the Italian Gardens, on South Cliff.
The herring harvest in Scarborough in 1907.
In 1913 crowds of day-trippers and holidaymakers arrive on a platform at Scarborough railway station.
There is no date attached to this photo of the Bowling Greens in Alexandra Gardens, Scarborough, with the Floral Hall behind but it looks to be around 1900s.
Taken around 1902 this photo shows Scottish women gutting herrings at Scarborough harbour. Thousands of women would travel from Scotland to the coast to process the catch during the autumn herring season.
In 1922, people enjoy boating on Peasholm Lake in Scarborough.
The beaches of Scarborough have been attracting crowds for centuries as shown by this photo of people with a row of bathing machines at the water's edge in the 1890s.
People enjoy a Pierrot show on the South Bay in August 1907. This would be a variety show given by a Pierrot troupe.
A group of people fishing from the harbour in 1912.
The early 1900s drew crowds to the beach, albeit more formally dressed than wed see today. Boats and the castle can be seen in the distance.
A miniature golf course by North Bay attracting tourists in 1925.
The North Bay outdoor bathing pool in Scarborough, 1938.
Bathers on the North Sands at Scarborough, about 1914.
A bandstand in the gardens on the towns North side taken around 1900.
Victorians with parasols enjoy a walk along the promenade in front of the Spa, past a bandstand in 1900.
A sign outside this pub in 1910 reads Here dwelt King Richard III.