IN PICTURES: Scarborough's best ever nightclubs - as chosen by you
For such a small town, Scarborough has had a wealth of pubs and nightspots down the decades.
Monday, 8th February 2021, 6:21 pm
Updated
Monday, 8th February 2021, 6:22 pm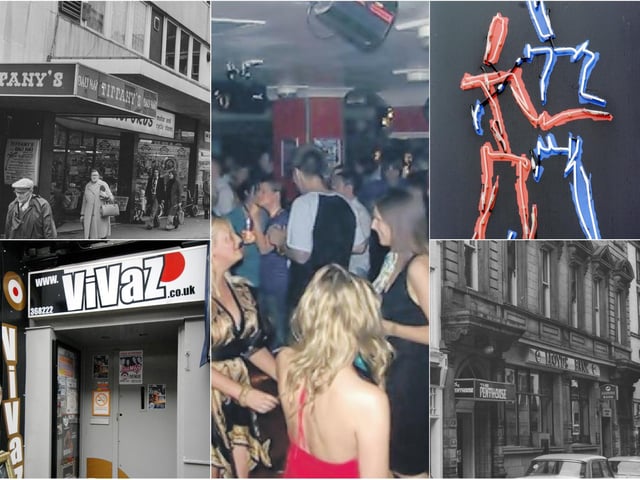 In pre-smartphone days, nightspot photography was rare. If you have any photos of your favourite clubs - inside or outside - please email them to [email protected]
When we asked, on Facebook, 'what was the best nightclub ever in Scarborough?' you responded in your hundreds, with shout-outs for almost 50 venues! Despite the numbers on the captions (put there by our software) the winner is revealed, in time-honoured fashion, at the end ... but enjoy the photos and captions to get there, too.
The building at the Westborough end of Aberdeen Walk has been home to several clubs. On June 3 1966 Scene One opened its doors there, Scarborough's first discotheque and one of the first in the UK. The photo shows it that year.
Owner Malcolm Stephenson recalled to The Scarborough News: "It (Scene One) was so new that people didn't even know how to pronounce the word discotheque. It was the first time clubs had been set up that played recorded music non-stop for people to dance to." Another favourite of yours on the site was Club XS, pictured, and its infamous foam parties. After six years as Toffs, it opened as Club XS in November 1996.
On the floor above Scene One, Scene Two opened on July 12 1968, and hosted the top bands of the time, ranging from Status Quo to Freddie and the Dreamers. Pictured is the last occupant at that site before closure, Mansion.
Another occupant of the Aberdeen Walk site was Tiffany's, with Bali Hai below it. In 1972 Scene One and Two were sold to the Mecca group, operators of Tiffany's clubs around the world. Ten years later they were bought back by original owner Malcolm Stephenson - reopening as Scene One and Scene Two again.
Bali Hai had a South Seas theme, complete with plastic palm trees. Tiffany's had room for 400 people; Bali Hai, aimed at 18 to 21 year olds, could accommodate 200 and had the very latest innovations, including an American fast food counter.
One of the resident bands at Tiffany's; this one, in 1977, was The Fashion. In 1978 they were 'promoted' to Tiffany's in Newcastle and were replaced in Scarborough by Shandy, with lead singer Lynda Hamblin.
Mansion was the final guise of the club. As Toffs, it once had Boy George as a guest DJ and in 1996 had Jason Ricardi as the resident DJ, at the time the highest paid party DJ in Britain at £1,000 a night.
The New George, and its predecessor The George, were popular spots. Owner 'Rocky' Rowe was a Falklands veteran with the Royal Marines and was also a boxing trainer, working with former featherweight world champion Paul Ingle.
The Aquarius, in Market Street, opposite Boyes, had its entrance where the white door is in the photo. In our poll Bluey Sheader voted: "Aquarius, seen it all in there" while Marie Braithwaite said: "Met my hubby in there".
The 2Bs, on St Thomas Street, opened in 1964 as a members' only nightclub in what had once been a government department. It was called the 2Bs after the original owners Tom Barman and George Burkin.
The 2Bs club offered the chance for gambling and also had cabaret. Acts who appeared there included comedians Mike Yarwood, Charlie Williams and Frank Carson along with pop groups like Edison Lighthouse and Black Lace. Tom Barman's son, John, took over the club and later after it was sold it became The Bees.
In 1992 The Bees became Boleyns, and was extended further above more of the shops. Martin Partington said: "I worked on the door at the Sun Inn and Bolyens mid nineties, good fun and a lot of good lads and memories."
Boleyns lasted longer than most clubs in town. Its last incarnation was as Karma, which closed in 2014. Plenty of people in our poll were Boleyns fans.
The Dammet Garm nightclub opened in the basement of the Prince of Wales Hotel (now apartments) on Esplanade in 1982, beneath the Amico di Siadatan restaurant. The club was run by Amico's management team.
Patrons wanting to get into Dammet Garm's Quiet Room had to negotiate a mirror maze. Stephen Pickering recalled: "The waiter used to do the robot dance and he used to do the same dance in Debenhams front window."
Victoria's was above Hintons (later Presto and Kwik Save) supermarket on St Thomas Street. You can see the letters spelling out its name on the windows above the store. Rock night at Victoria's was a particular favourite. It was later The Other Place.
Inside Laughtons, on Huntriss Row, which had various guises beforehand. In 1979 it opened upstairs as Taboo rock club, and in its four-year lifespan Taboo hosted many notable gigs, including Billy Idol, Eddy Grant, Theatre of Hate, The Dead Kennedys and, early in their career, U2.
Another photo inside Laughtons. Before Taboo, it had been the Candlelight Club, Peppers and Emmas.
Laughton's, which opened in 1985, called itself "Scarborough's most fashionable night-club and lounge bar". It was advertised as being "for smart over-25s". Later, Planet 2000 would occupy the top floor.
Bandleader Geoff Laycock opened The Candlelight Club in the Futurist building; it would later move to Huntriss Row. The Candelight was hugely popular with young people, due in part to the resident band, pictured, and long queues would stretch up Bland's Cliff. The Candlelight Quartet are pictured: Ken Rich, Ken Golder, Fred Kirk and Geoff Laycock.
The Candlelight was the first club in England to get a late licence and for many years was Scarborough's only nightspot. When it moved to Huntriss Row it pioneered the Scarborough beat scene. This photo shows the later Minstrel Bar at the Futurist.
The Tunnel Club, in part of the old Salisbury Hotel, was the upstairs area of The Underground club, and also went under the guise of The Works, Kings and Club 99. DJ Mark Starkey said: "I played a set at The Other Place, then moved on to LTs. My favourite residency by far though was The Tunnel Club. It proved that you didn't need to spend a fortune on decor to make a great atmosphere. No pretence, no poseurs, just a great atmosphere with amazing music."
Vivaz was the final incarnation of a club that was in the basement of the Salisbury Hotel. It was home to the Lowenbrau Bier Keller, and then the very popular Lemon Tree, The Underground, The Tomb and Kasbah.
Vivaz, which is Spanish for "lively" or "vivacious", hosted many major artists, including Snow Patrol, The Damned and Goldie, as well as top DJs and local acts. It closed in early 2015.
Paul Murray, owner of Vivaz, opened Murray's at the top of Westborough. Among its other guises were the Pavilion Vaults and L'Amour.
After selling the lease of The Penthouse in April 1979, Peter Adams converted the old St George's Hall theatre on Aberdeen Walk into part of his Elvenhome project. Including a vegetarian restaurant, arts centre and cinema, Elvenhome opened in 1981 and closed in 1985.
Rising from the ashes of Elvenhome, The Stage Door was opened by Hole in the Wall landlord Richard Pearson and his wife Ann. It became the hub of the town's live music scene.
Part of the upstairs of the Balmoral Centre was used as a nightclub with various names, including The Bete Noire, Time And Place, Champers and, pictured here, Winstons, which was run by flamboyant local businessman Frankie Boyd.
Bacchus, the town's remaining dedicated nightclub, was hugely popular in our poll. At the junction of Ramshill Road and Greenfield Road, it has been operating since the late 1950s under a variety of names, including The Condor Club, Flamingo, Latin Quarter, Bottleneck and Golden Guinea.
The famous spiral staircase in Bacchus. Jan Kettlestring said: "The place that holds the most memories for me is Bacchus. I first went there when I was around 19 and I'm now 61 and still feel at ease in there. I can't think of anywhere else in Scarborough that's been going that long and that's always been welcoming of such a diverse clientele."
The Golden Guinea, which became Bacchus in 1981, was once noted for its food. This photo from 1975 shows owners Stan and Mandy Roberts with a newly installed trout tank, from which customers could choose their fish.
Our poll attracted hundreds of comments. Quids Inn on St Nicholas Street got a healthy number of votes, while on St Thomas Street, the Showboat and Rosie O'Grady's were fondly recalled.
Rudies, earlier The Four Seasons, above what is now H Samuel jewellers on Westborough, was another favourite, and there were a few shouts for Hairy Bob's, Heroes and Studio One, among others. But the big votes went to Boleyns, in third place, Scene One and Two, in second, and in first ...
... what else but The Penthouse ! Opening in April 1969 above a branch of Lloyd's Bank, it would host some of the biggest and most influential artists in music. David Bowie, Roxy Music, Thin Lizzy, Fleetwood Mac, Status Quo, The Stranglers, Ultravox and, famously, the Sex Pistols (twice) trod its boards.
The Penthouse, which closed in 1982, holds a cherished place in many people's hearts. It secured more than twice the number of votes of second-placed Scene One and Two. A regular venue on many artists' tour schedules, The Penthouse electrified the Scarborough music scene with its 600+ bands and DJ nights.