East Riding Council looking to find cheaper energy
Bridlington locals are being given the chance to use their collective strength to bring down their energy bills as part of an innovative new initiative.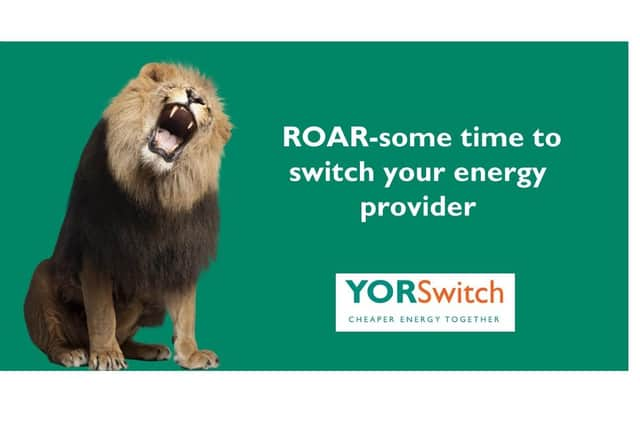 It's simple to get involved and takes just a few minutes to put in your energy usage and personal details
While switching energy supplier and comparing prices is easier than ever before, sometimes people don't have the ability to switch suppliers, are afraid of switching, don't have the time or simply think that it's just too much hassle.
Now East Riding Council are looking to encourage more people to take part, with the scheme offering everyone the chance to get their energy cheaper.
Under the banner YORSwitch, East Riding Council has joined with other local authorities across the region to negotiate better energy prices for residents.
It's simple to get involved and takes just a few minutes to put in your energy usage and personal details.
The council then gathers together a lot of people who want to switch and pay less for their energy with no hassle, and arrange for an auction to take place between the energy suppliers – with the one that offers the best deal able to offer you a new contract.
You will receive a personal offer which will tell you who the winning supplier is and their rates for your annual energy consumption.
The offer letter or email you receive will also show your current annual usage which you shared when registering for the scheme so that you are able to compare how much money you would save by switching.
And if you agree to the offer, the council will take care of the switching process for you, removing all of the hassle.
There is a similar scheme for small and medium-sized businesses in the area, who could save up to 30% on their energy costs, with expert advisors comparing the different tariffs available and finding one that is right for you.
And for those who live in more rural areas the council is also looking to negotiate discounted heating oil through a bulk purchase deal.
There is no obligation - residents are encouraged to check what they could pay through YORSwitch, if it is cheaper than their current deal they can switch with support. If it is not cheaper, no problem.
And you can also get an instant quote online and switch there.
If residents don't have access to the internet the council has a team of people who can do it for them and talk them through the process.
So to start saving money on your energy bills, visit the website here or call the customer service centre on 01482 393939.