Yorkshire Dog Wash: Self-serve dog cleaning and drying in Scarborough with prices starting from just £8.50
Britain is a nation of dog lovers, but much as we adore Rover, we hate muddy paws, smelly coats and messy grooming – meet Yorkshire's newest doggy parlour that allows owners to tackle all those problems, at a fraction of the cost.
According to recent figures, more than a quarter of the UK's population has at least one dog – with an estimated canine population of well over 10 million.
But with some groomers charging upwards of £50 a visit, and some curly-coated breeds needing attention at least once a month, maintenance can be beyond some people's pockets.
Giovanni Ferraro, from Yorkshire Dog Wash in Scarborough, has come up with an affordable solution that not only keeps cash in your wallet, but keeps the mess out of your home, and it is one of a kind in Yorkshire.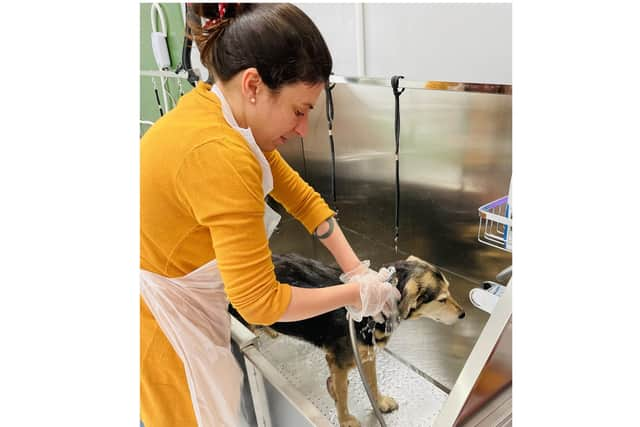 He said: "My family has always had dogs, often rescue dogs, and we know just how difficult it is to find a groomer with availability at a time and date that suits you. People often decide to try washing their pets at home in the bath, and that is a messy, smelly business!"
Instead, he has created Yorkshire Dog Wash, with a series of DIY washing and drying stations allowing dog owners to completely clean the mud and smells from their four-legged friends' coats, leaving them simply paw-fect!
Because it's a self-service grooming station, you can book in a slot which works around your work and family calendar.
There are three units available to book, the red, grey and green, for small, medium and large dogs. The red unit is available to book for 25 minutes, offering plenty of time to wash and dry a small breed, all for just £8.50. The grey unit is available for 35 minutes for £10.50, and the largest unit for 45 minutes for £12.50.
The cleaning tables and baths can be adjusted electronically to a height that works for the owner. The powerful blasters make light work of drying your dog thoroughly after each wash.
It's entirely self-service, which makes it perfect for anxious dogs who don't like being left at a salon, allowing their owner to be the one to wash them, offering treats and cuddles to keep the pooch calm. Professional grade shampoo and conditioner and disposable gloves and aprons are also included.
Clippering services are not available on site, but many owners find that by booking in regular wash and dry slots at Yorkshire Dog Wash they are able to maintain their dogs' coat themselves.
Giovanni added: "We know how much time and money we used to spend with groomers, and as a family we dreamt up this business idea. We wanted to offer something that really worked for owners and their pets."
It's all done through the website, simply visit https://www.yorkshiredogwash.co.uk/ and book in a time that works for you. Then simply wash and go, after a quick tidy up to leave the space as clean as you found it. The service is available seven days a week at Unit 17, Manor Road Business Park, Scarborough YO12 7BE. See online for glowing reviews.