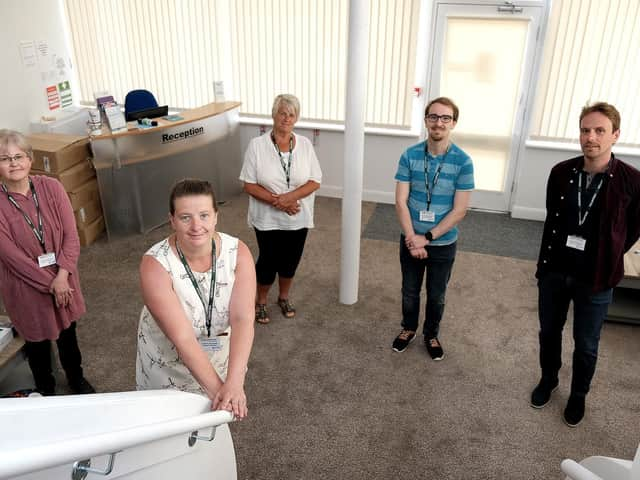 L-R, Jo Ellis, Michelle Gibson, Joan Edwards, Sam Baker, Ciaran Bartram
And titles like ours have been with you every single step of the way sharing those stories of resilience and brilliance in our communities.
We are surrounded by a nation of unsung heroes.
And today we want to help recognise those efforts of those who have made such a difference to the lives of others.
Quite simply, we want to say a Big Thank You to the army of volunteers, medics and other keyworkers across our towns and cities for their extraordinary selfless service.
But we need your help to do this. Over the coming weeks we are asking you, our readers, to share your pictures and messages to those who have made such a difference to your lives during lockdown.
We want to collectively say a Big Thank You to those extraordinary people who have gone above and beyond to support you during this difficult time.
Every town and village has its own coordinated effort to help those in need and Age UK, Scarborough and District, has been spearheading the area's Covid-19 response.
The CEO, Julie-Macey Hewitt, said: "The support has been amazing. We have 60 DBS checked volunteers with an active core group of 30."
There is also another group of around 30 volunteers who haven't been DBS checked who work with the book delivery and befriending service.
The volunteers come in all shapes and sizes, from Ciaran Bartram, marketing manager at York Maze, to Joan Edwards, a retired midwife who lives in Staxton.
Michelle Gibson from Scarborough is a manager for McDonalds, while Jo Ellis, from Staxton, does admin for her husband's business. Sam Baker from Scarborough finished university in April and has been volunteering ever since.
Jo, who is collecting both shopping and prescriptions, has got into a routine where she calls to see what shopping is needed on a Monday, collects it Tuesday and Wednesday and then drops it off later in the week.
Joan, who has volunteered at the Eastfield shop for more than three years, has two people who ring her when they need something and one couple that she calls every day just to check that they're OK.
Michelle is used to volunteering having spent over 20 years working with the Scouts. She waits for an email from Julie to say somebody needs something and goes and gets it straight away.
Sam rings for a list and then he shops straight after, while Ciaran also collects prescriptions and checks on a couple of people each day. It helps him to prioritise those in most need.
All five volunteers are on Julie's emergency contact list, for people who will go out for those who are in urgent need.
Ciaran said one of the most difficult things had been convincing people to accept help: "One lady at first refused to take help and another apologised as she was also accepting help from another source, which of course we don't mind at all."
Julie said: "We have funding for another four months and have asked North Yorkshire County Council how long they would like us to be in place. We are aware that for some people it could be January before they're allowed out."
As more people return to work, support networks are getting smaller and so is the pool of volunteers, but Julie says they still have plenty of people who will help.
The support is gratefully received by those who need it. Jo said: "People are so grateful and can't thank you enough."
Ciaran said: "A couple of strangers even stopped me in Tesco because I was wearing my lanyard and said thank you. People are really appreciative, you just wish you could do more."
Julie said if she could say one thing to those in need it would be to get in touch: "Utilise us, we're offering to help, pick up the phone and give us a call."
If you would like to volunteer, or know anybody who needs help, contact Age UK Scarborough and District on 01723 379058.