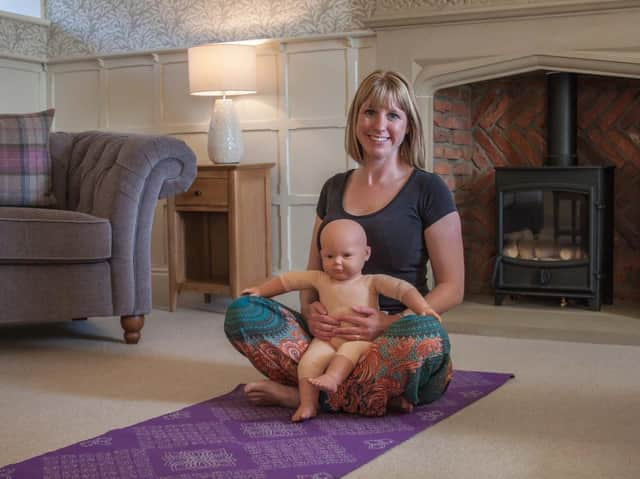 Rebecca Palmer's colic podcast featuring other local mums is being listened to around the globe
Rebecca Palmer, from Gristhorpe, has had her podcast The Colic Diaries downloaded in Australia, New Zealand, South Africa and America since launching it in September.
The 36-year-old, who is mum to nine-year-old Sam and six-year-old Trudy, said she wanted parents whose babies are suffering from colic to know they are not alone.
"My first born struggled with colic, reflux and allergies and it really wasn't the introduction to motherhood that I had envisaged," said Rebecca.
"My experience was one of helplessness, isolation and feeling powerless."
Her struggle led to her switching careers, from solicitor to a colic specialist and founder of Colic SOS.
"I didn't want any other family to struggle like I did so I really am a mum on a mission to simplify colic for families," said Rebecca.
According to the NHS website, colic is when a baby cries a lot but there is no obvious cause.
Rebecca has been interviewing local parents about their experiences of colic and sharing them through her podcast.
"I wanted to share these stories to offer hope and advice to parents who are currently struggling because nobody ever prepares new parents for colic, yet it affects one in five babies," she said.
"Studies have shown that mothers who have colicky babies are more likely to be diagnosed with postnatal depression and the evidence is there to show that it negatively impacts on the whole family.
"In the podcast episodes, local mothers have shared their stories on the problems that they have faced in their parenting journey with a colicky baby, how they felt, their advice and support for those who are struggling at the moment, and my advice too on the common colic triggers.
"The aim of the podcast is to show that a mother is not alone in this and to make a difference."
Rebecca, who is also a baby massage and baby yoga teacher, but lockdown restrictions have meant her classes have had to move online once more, as they did when the pandemic first hit.