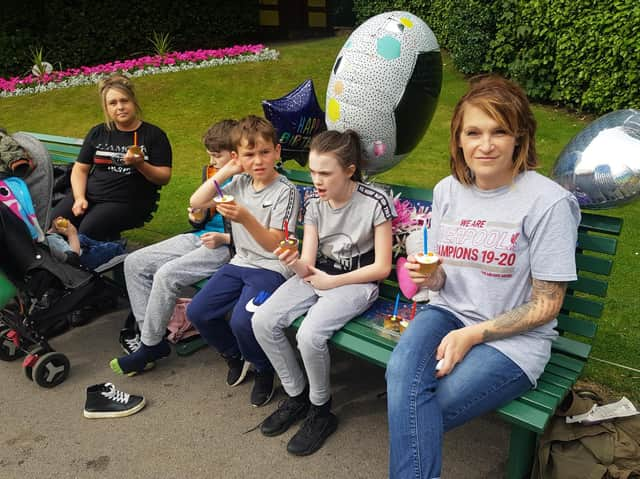 Julie Spence (right) with some of her family visiting Callum's bench
Julie Spence was heartbroken when she could not make her usual trip to mark the anniversary of eight-year-old Callum Lister's death in May because of coronavirus restrictions.
She was amazed and incredibly touched when, after a plea on Facebook, hundreds of Scarborough people got in touch to say they would take time to remember him.
Many sat on the bench to mark the day for her, while others left flowers, teddy bears and messages, and shared pictures and videos with Julie on social media.
The family decorated Callum's bench to mark what would have been his 24th birthday.
On Saturday, Julie and her family made the trip over to visit the bench for themselves to mark what would have been Callum's 24th birthday.
"We love Scarborough," she said. "It meant a lot to me, growing up, and it was where Callum spent his last holiday before he died.
"People did stop and talk to us as we sat on his bench and said that they have been following our story on Facebook and that Callum will always be a part of Scarborough with his story."
Julie, 49, made the trip with her husband, three children and two grandchildren.
The bench is dedicated to Callum's memory
The family were contacted by staff at Scarborough Castle who had heard about Callum and who invited them all for a free visit.
Callum was hit by a vehicle on May 12 2005 and died in hospital the following day.
Julie and the rest of his family usually visit Scarborough three times a year - to mark the anniversary of his death in May, his birthday in July and Julie's birthday in October.
Callum's bench is near the putting green in Peasholm Park - a fitting place as he used to enjoy playing golf and going on the dragon boats.
The flowers placed by Scarborough residents in May
Julie's original request on Facebook was for someone to sit on the bench when she could not, but she was overwhelmed by the response she received.
"It's just been incredible," she said.
"I've thanked people in Scarborough for all that they've done. It's meant so much that people cared.
"It makes you think there's some really good people out there."