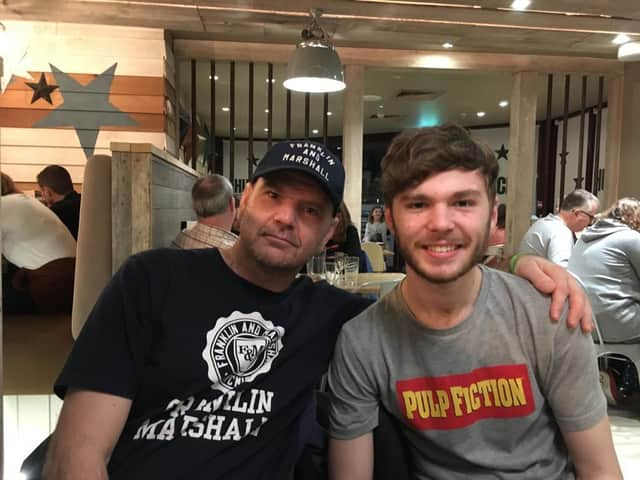 Pete and Jayden
Like thousands of students across the country, Jayden, 18, is anxiously awaiting his A-Level results on Thursday.
He said: "Thursday is results day, we are able to go in, but I suppose they'll only let a few people into the hall at a time because of social distancing.
"It's very surreal on top of everything else going on with my family.
Jayden with sister, Gracie.
"I'm okay, I guess, I've had a few bad days, and I'm a little shaken up because of results in Scotland.
"I'd like to get into my top choice university. I'm hoping to go to Durham to study politics, philosophy and economics.
"I've chosen it mainly because I'm interested in it and will perhaps go into business management afterwards.
"Although after uni I would really like to write books, novels probably, I started writing a fantasy novel in lockdown, it's kind of tongue in cheek, I'm hoping it can be published next year."
Left to right - Natalie, Gracie, Jayden and Peter
Jayden said the gaping hole left by his father's absence is becoming more noticeable all the time. Last weekend Pete's brother-in-law celebrated his 50th birthday. Jayden said: "We want him to be there, mum, my grandparents, all of us were saying why isn't he here?
"You always feel like you can't celebrate things to a degree, at a big event it's always simmering underneath, it's as if we hadn't invited him."
"I'd really like to say to him you don't need to feel like you've done anything wrong, just come home. You've been very ill. You just need to come back."
Jayden, who has worked at Terry's in Whitby for the last five summers said "Whitby feels a lot busier than previous years. When I'm waiting on and dealing with loads of customers, if I'm having a bad day and really feeling it about my dad, when I see happy families, sometimes I mess up.
"People can't tell what you've got going on, everyone has their own troubles in their own lives, other people can't see that."
Jayden said he'd like to ask people to keep looking for Pete, he said: "Now people are out of lockdown, please check posters to see what to expect, and please keep an eye out for my dad."