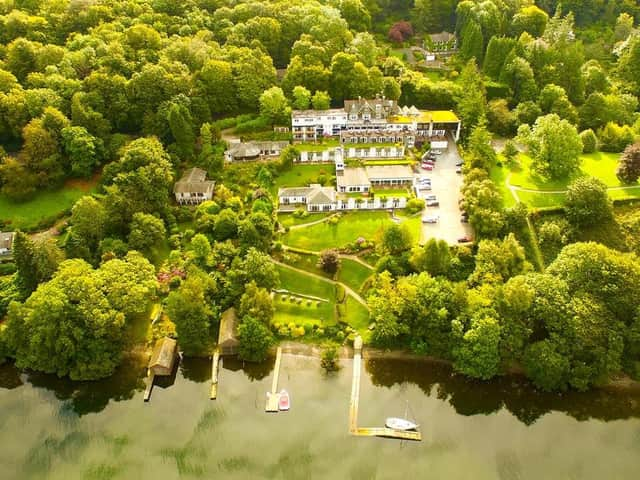 An aerial view of Beech Hill Hotel and Spa and Lake Windermere.
Lake Windermere, running through the heart of the Lake District in Cumrbia, spans more than 10 miles in length making it the nation's biggest natural lake and, of course, one of the most sought-after domestic tourist destinations.
Hotels, bed and breakfasts and hostels are dotted along its majestic shoreline, growing in numbers around the hotspot of Bowness-on-Windermere.
Bowness acts as a hub for those visiting Windermere, boasting dozens of restaurants, bars, cafes, shops and galleries.
The spa at Beech Hill Hotel and Spa.
Among the hotels offering expansive views of the lake, but within a convenient distance of Bowness, is Beech Hill Hotel & Spa.
The four-star hotel has an impressive plot on the east bank of Windermere, with rooms and its large restaurant and bar looking directly out to the lake.
Clearly, its main pull is the lakeside view - and should not be underestimated.
Whether you are watching the sun wash its warm glare over Windermere as dawn breaks, or taking in its calmness under the starry night sky in the moon's glow, the beauty is unrivaled from this spot.
The hotel has also recently undertaken a significant renovation and expansion of its flagship 'Lakeview Spa', boasting a 40ft swimming pool, Himalayan Sauna, and aromatic steam room.
There are three treatment rooms, including one shared room designed specifically for couples, and a nail bar.
Meanwhile, its outdoor spa space features two Vitality Spa Pools and loungers from which guests can take in the stunning views that Windemere, and its mountains beyond, have to offer.
The hotel itself has 57 bedrooms. Many of these include private balconies or easy-access to the garden via glass doors where a short winding walk will bring you to within a stone's throw of the lake.
Its own website described the site's Burlington's restaurant as "the jewel in the Beech Hill Hotel's crown for over 20 years". The restaurant has been refurbished, and offers equally eye-catching views of the lake from each of its several tables.
The menu is impressive, too. With meat, vegetarian and vegan options available, the well-presented dishes, served up with care using locally-sourced ingredients, offer a relaxing experience for guests and holidaymakers.
Bowness, as mentioned, is just a short distance away - a five-minute car journey - from the hotel for those looking for a meal out, drinks or shopping opportunities.
Meanwhile, there are, naturally, several walking routes on offer in close proximity, for those wanting to explore the Lake District's famous nature trails.
Click here for more information about the hotel's facilities, or to book.