Cakes for Whitby key workers, with love from Lizzie
It has been a strange few months. Each of us has faced a unique set of circumstances and challenges. There are those who are furloughed, suddenly at home, transforming themselves into teachers and carers and neighbourhood champions.
Thursday, 28th May 2020, 5:00 pm
Updated
Thursday, 28th May 2020, 5:02 pm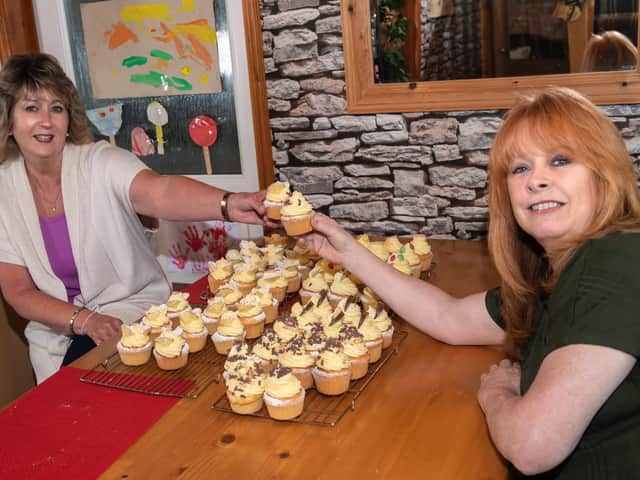 Tracy Dryden and Lizzie Elwick
There are those who have been asked to self-isolate for 12 weeks, to build a cocoon around themselves to protect themselves from the unseen dangers of Covid-19.
There are those who have started to work from home, changing plans and routines, somehow teaching French and Geography whilst meeting the ongoing demands of a normal business day.
And then there are the key workers, those who have continued to go to work day in and day out while the rest of us relied on them. They have wrestled with the potential consequences of what interacting with people could mean to their loved ones and gone anyway.
It is these people that we have learned to appreciate like never before. The Thursday night 'Clap for Carers' has been one way we have found a way to say "Thank you!", but there are people who have found other ways to show their appreciation. Like this week's Salt of the Earth, Lizzie Elwick.
Lizzie has been baking cakes for the keyworkers of Whitby since lockdown began, but the idea began a few weeks before when she decided to bake a random acts of kindness cake for a worthy recipient.
Lizzie, who is a cook at Whitby Seaman's Mission, took the cake to work with her with the sole intention of giving it to a customer that day.
An elderly gentleman came in with his son who was in a wheelchair and Lizzie gave the cake to him. It turned out the man was staying at The Royal Hotel with his family. "You would have thought I'd given him the world," she said. "I'd never seen a face like it."
Cakes destined for Cornforth Care
When lockdown started Lizzie, who is the founding member of The New Whitby Site on Facebook, made a second cake and posted a picture on the group with a request for suggestions of who to donate it to.
She was inundated with potential recipients, but eventually a winner was chosen and the cake was taken to Peregrine house care home: "When I delivered it there was an old man who stood waving at me from the window, smiling," she said.
Things escalated pretty quickly after that, unable to leave out the other homes Lizzie baked cakes for Whitby Court Care Home, Glencoe and Oaklands.
She followed that up with cakes for the hospital, care workers, supermarket workers and others who have kept town going during the lockdown.
Smiling faces from Cornforth Care as the cakes arrive
At a rough guess, Lizzie believes she's baked around 2,500 cakes since Lockdown began.
She even made some cakes for the workers repairing the road outside her house.
Tracy Dryden, fellow admin on The New Whitby Site said: "She loves her baking, I don't think she ever sleeps. She kept baking and asked for ideas of where to take the cakes.
"They have gone to doctors, nurses, keyworkers, the fire station, Billy Wilson's, I think everybody who's still working she's made them a cake.
"Trillo's have been keeping her supplied with icing sugar and as she doesn't drive, her husband and grandson have been delivering for her.
"She's like a conveyor belt, it's been a proper family effort between the three of them."
It's not just cakes and the New Whitby Site where Lizzie is making an impact.
Plans for her 60th birthday in October are well underway (lockdown permitting). But rather than presents, Lizzie is arranging a Northern Soul fundraiser at the Metropole Hotel in memory of brother, Ronald, who sadly passed away three years ago.
There will be no charge for entry, but she hopes people will buy raffle tickets on the night and drop a few coins in the charity bucket.
Any money raised on the night will be divided between the Samaritans and SOBS (Survivors of Bereavement by Suicide).
Lizzie, 59, who lives on Abbots Road in Whitby, said she gets a real satisfaction from baking
"All these care workers and supermarket workers they've been risking their necks for us, I think they deserve a cup of coffee and a piece of cake.
"I know that a lot of people now know my cakes, I've had people stopping me in the street to say thank you for them.
"I always said I wish that earlier in life I'd have bought a little cake shop. I'd bake 24 hours a day if I could.
"When people come into the Mission and I see their faces, that people are liking my food it makes me happy
"If I can put a smile on their face by making one cake, then I'll make a dozen!"