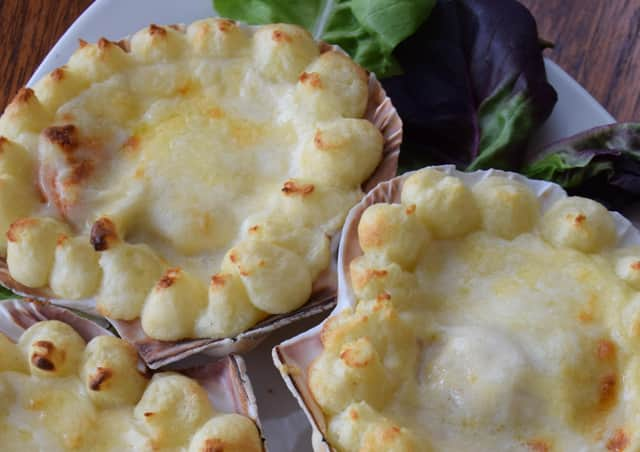 Coquilles St Jacques
16 King Scallops, or less if big
2 banana shallots, finely sliced
The Magpie Cafe in Whitby may utilise the roof accomadation for dwellings . pic Richard Ponter
2 teaspoons Dijon mustard
500g peeled potatoes (a floury potato suitable for mashing such as Maris Piper or King Edwards)
75g grated Gruyere cheese
Peel and chop the potatoes, place into a pan of salted water and bring to the boil.
Cook until tender, strain and mash with the 25g butter and 50ml double cream, season to taste and put into a piping bag and let cool slightly, enough for you to handle.
Pipe the potato into small rosettes on four large scallop shells (or dishes if you cannot use shells) and place under a preheated grill to brown.
While the potato is under the grill put the wine, fish stock and shallot into a pan and add the scallops, cover with a lid and poach for three minutes.
Remove the scallops from the pan and keep warm, bring the wine liquor to the boil and reduce by half, add the garlic, cream and Dijon mustard, reduce a little and whisk in the butter and 100g Gruyere cheese.
Take the dishes from under the grill and place the scallops in, pour over the sauce, top with the grated Gruyere cheese and place back under the grill until golden brown.
Remove from under the grill and serve.