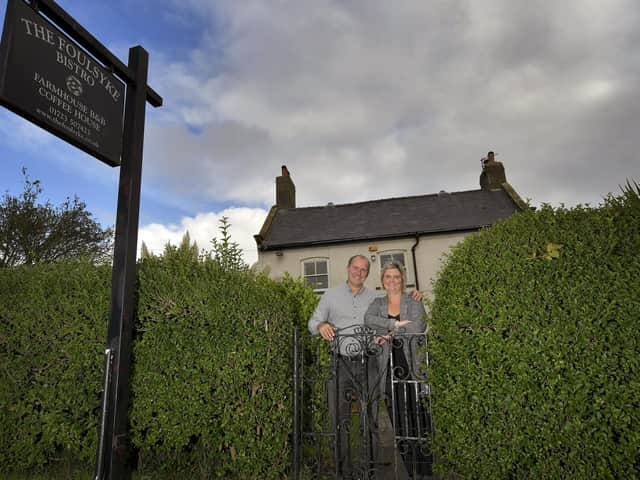 Mark and Sharon Dresser at the Foulsyke
The couple have bought The Foulsyke from chef Keith Cochrane and his partner Diane Woff.
Mark, an electrical engineer, and Sharon, who heads a property business, have taken over the bistro's operation and its holiday accommodation, after deciding on a joint change of career.
"We were looking for something else to do and this came up. Despite Covid-19 we decided to go ahead and buy it," said Mark, who also worked for Deep Sea Electronics.
Keith, who worked at the Savoy in London, has stayed on as chef.
The bistro's wide-ranging creative menu has already attracted more than 5,000 compliments on Facebook, making it the fourth most followed restaurant on the social media.
"We wanted a new challenge and to do something different and the bistro seemed a great opportunity," added Mark.
"We are achieving that while at the same time keeping the character of a traditional farmhouse and working farm," said Sharon,
The business now has a staff of 12 and a team of four chefs, headed by Keith.
The Foulsyke, in Barmoor Lane, Scalby, is open for business at various times from Tuesday to Sunday, with Covid-19 secure measures in place.
It has also introduced a Sunday dinner takeaway service again for pick-up between 11am and 1pm. Customers can order through email or ring The Foulsyke direct.
It will also be opening Christmas Day and has organised two sittings.
"We are looking forward to making your Christmas Day a little more special," said Mark.