Scarborough's Espresso Yourself named in top 20 coffee shops in the UK
A coffee shop in Scarborough has been named one of the top 20 in the UK.
Wednesday, 23rd June 2021, 12:45 pm
Espresso Yourself, on Falconers Road in the town centre, was given the accolade by coffee retailer Coffee Friend.
Coffee Friend's research based on TripAdvisor reviews has discovered the top 20 spots Brits like to get their caffeine fix.
Espresso Yourself has made the list with customers giving it a rating of 5/5 with 133 excellent ratings out of 157 overall reviews.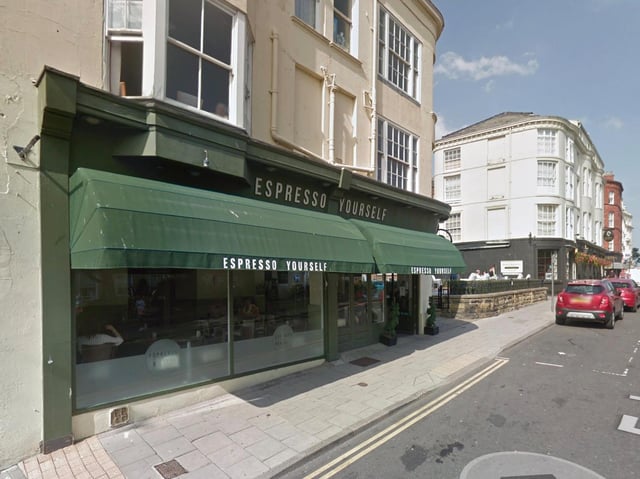 Espresso Yourself in Scarborough. Picture: Google Maps
The research conducted by the coffee retailer looked at the highest rated coffee shops across the UK with more than 100 reviews based on TripAdvisor reviews - taking Excellent, Terrible and overall ratings into account.
Aurimas Vainauskas, CEO of Coffee Friend, said: "The UK is now a nation of coffee lovers and with the country returning to more normal times, we're helping the people of Britain find the best cafes in the best places.
"Our research has looked at the highest rated cafes across the country and found some of the better known, and lesser known, joints to grab a favourite drink and a bite to eat."
Andy Walker, who owns Espresso Yourself, described the news as 'absolutely fabulous'.
Before opening the coffee shop Andy worked at Costa and rather than going on pub crawls would go on 'coffee crawls' to York and Leeds.
He wanted to create a place of his own where coffee was the main event.
He said of being back open after lockdown: "It was a bit timid to start with but now it's absolutely going nuts in the best possible way."
Espresso Yourself serves Seasons Coffee, a company based in West Yorkshire.
The complete list is as follows:
Big Moose Coffee Company, Cardiff - 5/5
The Origami Cafe, Alnwick - 5/5
Manvell Farm Tea Room, Northampton - 5/5
Love, Peace and Cupcake, Cardiff - 5/5
Rough Hand Made, Liverpool - 5/5
Baffled Coffee, Portsmouth - 5/5
Espresso Lounge, Tring - 5/5
Drury 188-189, London - 5/5
Lovelock's, Liverpool - 5/5
Crepe and Coffee Cabin, Bristol - 5/5
Fortuna Coffee Bar, Edinburgh - 5/5
Clifton Coffee Shop, South Shields - 4.5/5
Bogota Coffee Shop, Milton Keynes - 4.5/5
Prince Street Cafe, Lancaster - 4.5/5
Urban Ground, Eastbourne - 4.5/5
Coffee With Art, Bedford - 4.5/5
Bettys Tea Room, Harrogate - 4.5/5