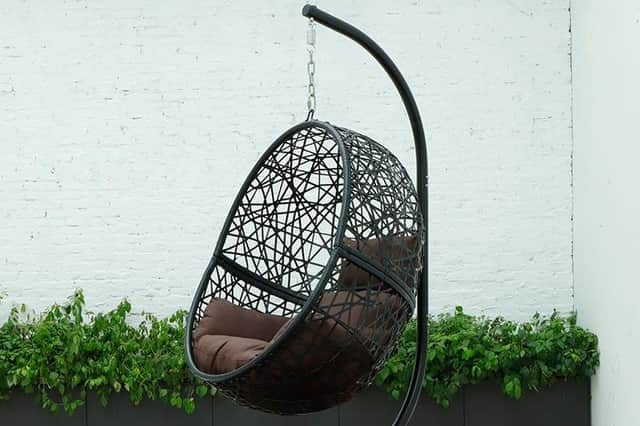 The BRIQ Hanging Egg Chair would be the perfect addition for any garden. Image: BRIQ
During lockdown the sanctuary of the garden was the only place you were allowed to safely meet family and friends and this is still the case for some as Covid-19 shows no sign of going away.
While we couldn't go shopping or sit in the pub during 2020, many of us spent time sprucing up our lawns and filling our patios with furniture so loved-ones could pop round for a cuppa and cake.
And for me the quirky addition of a BRIQ Hanging Egg Chair in my garden has been one of the 'staying at home' highlights.
The BRIQ Hanging Egg Chair boasts strong mechanisms. Image: BRIQ
Available for £179, it's the ideal piece of furniture for any garden, yard or patio and it's no surprise that these 'ultra-comfortable' chairs have been the 'must have' product for many households.
Although mainly designed for the garden, its stylish rattan look also suits a conservatory. It features comfortable water-resistant cushions in grey or white, a full-height stand, durable steel base and woven sides.
Not only will the egg chair impress your family and friends, it's Instagram-worthy look has also proved popular with celebrities such as Reece Witherspoon and Stacey Solomon.
The days might be a lot shorter and cooler now, but the garden remains the go-to place for many families during the autumn months, providing the opportunity to de-stress and forget about Covid.
The 'ultra-comfortable' chairs have been the 'must have' product for many households this year. Image: BRIQ
Curling up in the egg chair certainly adds to the sanctuary feel as it's the perfect size for snuggling up with a blanket and hot chocolate with just your thoughts for company.
For me it's certainly made the months working from home more enjoyable, particularly during lunchtime to help break-up the long days at my desk.
To sum up the BRIQ hanging egg chair in one word, I would say it's been 'egg-cellent'!
The BRIQ single Hanging Egg Chair is available now for £179 (with white cushions) here and comes with a five -year warranty.