A Stroll With Stu - Cooking up a great walk for the summer
Well, well, well – and I hope you all are. I did this five-mile linear walk before anyone south of Thirsk had heard of Barnard Castle, but it never made it into print.
Thursday, 9th July 2020, 9:59 am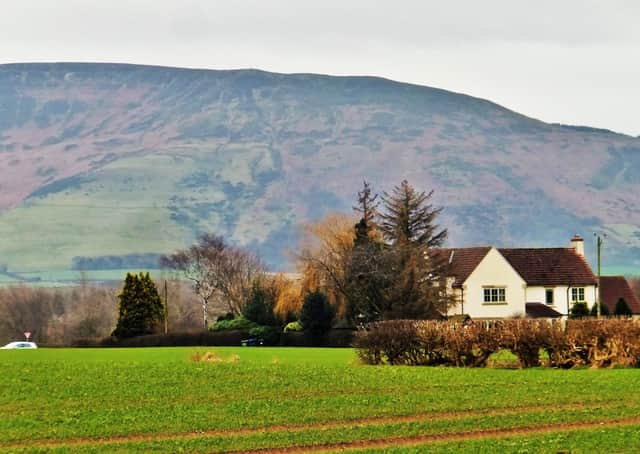 Moors looming large.
As restrictions were sporadically developed in that there London, it morphed into a Great Ayton circular so that nobody had to catch a bus, but eventually it too had to be abandoned.
If restrictions are lifted for leisure travel on public transport with the aid of an attractive face mask, do the linear walk.
Riverside walk in Stokesley.
Otherwise park your car at Great Ayton station then take the circular option, included on the map and in the text.
I'm re-writing this in a tropical heatwave and it is hard to recall the clag and cold rain that we encountered back in February.
So, my photos may have lost their relevance, but the walk will now be a whole lot prettier.
Starting at Great Ayton Station (in a different time zone to the village), turn right along the road then quickly right again along a wide track, passing some nice houses and a farm.
Captain Cook's memorial monument.
Bend left for a short while before turning sharp right on a wider track, over the railway to Fletchers Farm (complete with a tempting coffee shop), and onwards to the hamlet of Little Ayton.
Turn right along the lane close to the River Leven (your companion all the way to Stokesley), which has meandered its way down from the moors above Kildale.
After a couple of hundred yards, take a signed path on your left crossing the river and curving right through a stile (more or less underwater on our visit) to run past several sports pitches.
Turn left after the cricket pitch, slightly uphill, heading straight on through two estates (almost entering the kitchen of No. 42a) to emerge on the A173.
River Leven near Great Ayton.
Turn right towards the village, crossing over the road at Mill Farm, then soon left across a white bridge over the Leven.
Your opportunity to make this walk circular, is to turn right opposite that footbridge (ie don't cross it) down Greenacre Close – soon morphing into Mill Terrace.
Pass tennis courts on your left as the lane changes name again to Race Terrace before a junction with Easby Lane/Bridge Street.
Immediately opposite, is a granite obelisk chiselled out of the bit of land that Captain James Cook's lieutenant Zachary Hicks first saw in Australia in 1770.
It is erected on the site of Cook's family home, which was dismantled brick by brick and rebuilt in Melbourne in 1934.
We got this little pillar and they got his house – it's very nice, but I reckon we drew the short straw!
Turn left to soon cross the river again, immediately turning right along the High Street to reach the village green after a left bend near the Co-op.
More Cookery reminders can be seen in the form of an attractive statue of the good Captain as a schoolboy, and every time you get a view of the hills to the East, you can't miss the huge and impressive Captain Cook's monument high on Easby Moor, which would require a prodigious effort to pull down and throw in the river.
Follow the High Street past the Royal Oak pub, to turn right at a junction along Station Road, soon going left at a roundabout for the half mile walk down the quiet Lane to the railway station.
Back at that white footbridge for those off to Stokesley, turn left on the quieter Yarm Lane, edging left again a minute or two later through a gate onto a field path.
The track is easy to follow, and after a dogleg joins the river again. We were lucky enough to see a kingfisher looking for dinner in the muddy waters and a skylark soaring up into some particularly arctic weather.
Always keep the river on your left for about two miles, to eventually scuttle across the A172, straight on along a path to reach a roundabout.
Head left across the river then take a path/cycleway which follows the Leven through central Stokesley.
With old cottages on your left, this is a lovely little walk in its own right and leads to an impressive packhorse bridge.
More than 200 years old, it was part of a route from Durham to Helmsley, though now it just leads to Boyes on the High Street.
Stokesley is a characterful and vibrant little town – a pleasant place to explore with some historic buildings, the home of Quorn – your average veggies 'go to meat substitute' – and a lively town fair in September.
Personally, I look forward to the reopening of the Green Man micropub at the west end of the High Street where you could hang around long enough to miss your bus back to Great Ayton.