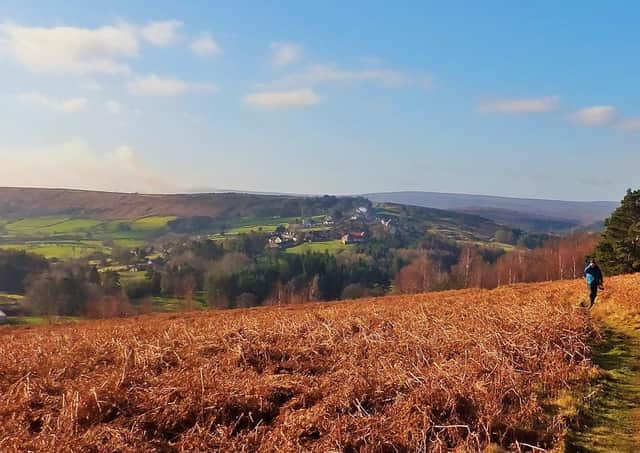 Looking back to Castleton
You don't often get clear blue skies and windless days in August, never mind February, but those glorious conditions stayed with us all day and the walk was equally stunning.
My mate Simon came with me on this one and with my jelly knees and his all-round dodginess, you probably couldn't cobble a decent specimen together out of the two of us.
Simon goes uphill at a snail's pace and I come down in a similar manner, but with added groaning noises.
If it wasn't for the flat bits in the valley, we could be there forever.
Starting at Castleton Station, cross the road bearing slightly left to follow a path uphill between what looks like an old quarry and the Esk Moors retirement home. (I doubt they went through too many flipcharts when brainstorming the name).
Turn right at the top and follow the path as it snakes through Danby Park wood.
The sun was yet to melt an overnight frost, but it had woken a variety of birds, twittering gratefully away in the branches in this lovely mature birch wood.
Exit the wood through a gate, then follow a path uphill on your left, soon bypassing a wall and gate also on your left.
Remember to look back from time to time - ostensibly to keep an eye on your wheezing mate - but truthfully to admire scrumptious views back to Castleton and the side dales.
Carry on along a pretty gully then bear right where the path forks and carry on for half a mile to turn left, quickly through a gate, on a wider track ahead of a wall.
A further gate brings you to a distinct left-right path, but you actually need to go straight on into rough grazing land where you can share the remoteness of the shallow valley of Haw Rigg Slack with several curious sheep.
Head through a marked gate in the wall away to your right, leading in turn to a path into woodland.
Haw Rigg Slack has now been joined by Ewe Crag Beck (both of whom play up front for South Korea) and you cross the resulting torrent to climb back up to Rosedale Intake Farm, going right to hit the road above Danby.
Downhill, pass Graystones country house on your right.
Hidden behind trees, this imposing Edwardian Villa has been prominent on the skyline for much of the walk.
Country Life Magazine showed it for sale in 2009 – a snip at £1 Million (reduced from £1.2 Million for a quick sale, Guv).
There is, or maybe was, a path on the left of the cattle grid, but I soon gave up on it and returned to walk down the road leaving Simon to get unduly intimate with some barbed wire.
For the first time in our lives, we walked past the Duke of Wellington pub and continued for a mile to head left on Brook Lane (the second turn-off) in Ainthorpe, climbing up to the Fox and Hounds.
That proved too much for us and we adjourned for a pint or two in this pleasingly busy little country inn.
From the front door, cross over to the quoits pitches.
Go right down a grassy slope to turn left on tiny Strait Lane, then quickly left again over a stile to follow a path to Parsonage Farm.
Turn left on the road and climb a stone stile in the wall opposite the distinctly spooky old vicarage.
The path curves right to a second stone stile, then follows the opposite field boundary to a humongous ladder stile adjacent to a worn-out tree.
Turn left to go through the gravelled yard of Howe Farm, then right down its access road.
At the war memorial, follow the path left for half a mile or so, as it curves to emerge onto Wandels Lane.
A right turn here takes you to Castleton, where Simon and I fell gratefully into the Downe Arms, opposite the road back down to the Station.
The Downe has a curious recent history reflecting perfectly that a pub is defined by its landlord as much as anything else.
Always a nice place with letting rooms and a spiffing view from its rear beer garden, it descended inexorably down the pan for a few years attracting several bilious comments on Tripadvisor, before being triumphantly revived by Julie and Neil who also have The Ship in Whitby.
Having retreated back to the coast, they've handed the reins to Jack and Liv who also run the excellent tearoom just up the road.
Seems to me to still be in good hands.