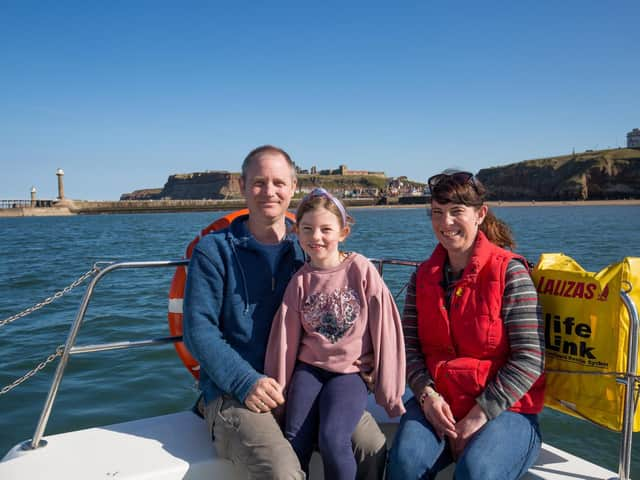 Ross Crookes with wife Laura and their daughter Elizabeth.
Ross Crookes decided to spend more time home with wife Laura and daughter Elizabeth.
Thinking long and hard while away at sea, it was with a heavy heart that he decided to change occupation, but he wants to give the public a chance to see some of the amazing sights he was seeing daily while away fishing.
Purchasing a purpose-built sightseeing boat enables the passengers to experience an exhilarating ride from a warm cabin, as well as outdoor viewing space.
Coastal Explorer entering Whitby.
The vessel Coastal Explorer will be running a unique trip taking passengers between Scarborough and Whitby.
The trips give the public a chance to see the beauty of this coastline from the sea and by land, ideal for the experienced walker or able cyclist, the Cleveland Way and Cinder Track provide the opportunity to do just that.
Ross is also hoping people will support the local businesses along the way with café and pub facilities.
He said: "The more leisurely holiday makers can return by arguably the most scenic bus route in the country, dropping in at the beautiful Robin Hood's Bay along the way.
"We aim to display our beautiful coastline in all its glory and enhance the holiday experience of all our passengers."
Longer trips will also be available, as well as private full boat charters where, it is hoped, whales, dolphins, seals and birds can be spotted.
The vessel will be running from the end of May.
Bookings and details will be available on the company website and associated Facebook and Instagram pages.