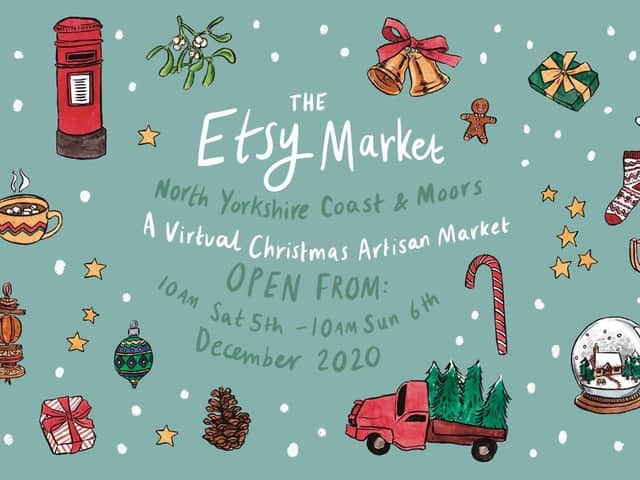 The Etsy market is on Saturday December 5
The event, which features local sellers in this Etsy-sponsored initiative, will connect makers and creators with shoppers in their community during this first-of-its-kind virtual Christmas shopping event.
Organised by the North Yorkshire Coast and Moors (NYCM) Etsy Team, the one-day shopping experience will highlight over 15 local Etsy sellers, offering shoppers the chance to discover one-of-a-kind items and thoughtful gifts for everyone on their Christmas gift list. Items include anything from jewellery to mixed media, glasswork to greetings cards, while meeting the makers whose skills and passion create these special gifts.
At a time when small businesses need support ahead of the festive season, Etsy is bringing the The Etsy Market concept to multiple regions across the UK this winter and has over 60 events happening around the globe, with the NYCM event being one of them.
Katy Armstrong, team captain of the Etsy Market: NYCM said: "Following last year's popular artisan market, we have decided to organise our first ever virtual event!
"On Saturday December 5 shoppers will then have the chance to connect with sellers, ask questions and make purchases for the holidays from North Yorkshire's local makers.
"Last year many who attended enjoyed meeting the talent behind the bespoke, handmade gifts that were available to buy. Our virtual event is a great opportunity for shoppers to discover the creative talent in the area without relying solely the high street for festive shopping."
Shoppers can also visit the website https://theetsymarket.etsy.com at any time check out The Etsy Market schedule and see what events are happening in the North East and beyond.