Bike and Boot hotel in Scarborough announces partnership with world champion trials rider Jack Carthy
The Bike and Boot hotel has announced a long term partnership with world champion trials bike rider Jack Carthy.
Thursday, 17th June 2021, 1:07 pm
Updated
Thursday, 17th June 2021, 1:08 pm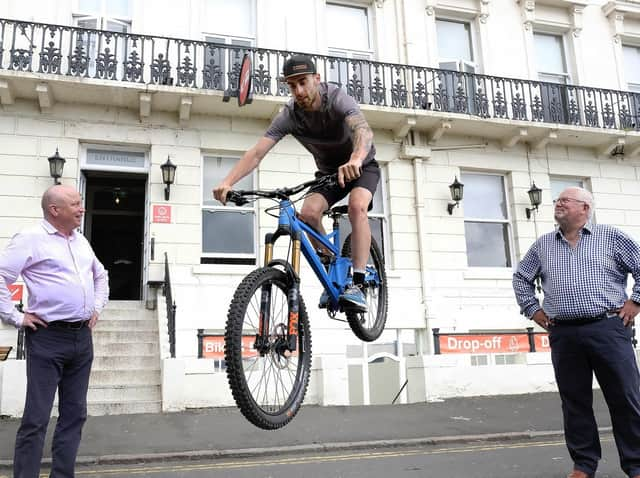 World champion Jack Carthy pictured with owners Simon Rhatigan, left and Simon Kershaw, right. Picture: JPI Media/ Richard Ponter
They shared the news and introduced Jack to business leaders and politicians from the community at a business breakfast last week.
Jack is a pro trials rider from West Yorkshire and the reigning UCI trials world cup champion and the team at the hotel have teamed up with him to work on several projects in the coming months.
Christianne Lane and Simon Rhatigan, front centre, greet local business representatives. Picture: JPI Media/ Richard Ponter
Attendees watched both films in the hotel cinema, where the film club shows movies three times a day and were treated to a demonstration from Jack.
Simon Kershaw, brand and development director at the hotel group, said: "We wanted to celebrate getting open again and show off our plans for the future.
"It was an opportunity to get people together after a year apart.
"A lot of people hadn't seen each other since last year."
MP Robert Goodwill at the breakfast. Picture: JPI Media/ Richard Ponter
Staff from Anglo American, GCHQ, Discover Yorkshire Coast and Visit Yorkshire were all in attendance.
"Many people come to our area to walk and cycle but rarely are there facilities to wash off the mud and store equipment safely.
"I think Bike and Boot have tapped into that market and with their informal style and other innovations like checking in on your phone.
Jack Carthy shows off some stunts. Picture: JPI Media/ Richard Ponter
"I hope others will follow where they lead."
The Bike and Boot opened in July 2020 and has quickly become a popular spot for visitors to the town.
The owners are now planning to try and repeat this success elsewhere by opening another property in the Hope valley in the Peak district in spring next year.
Simon added: "We're very pleased to be very busy and its been such a relief to get to get open again."
You can watch the film starring Jack on the Bike and Boot's Facebook page here.