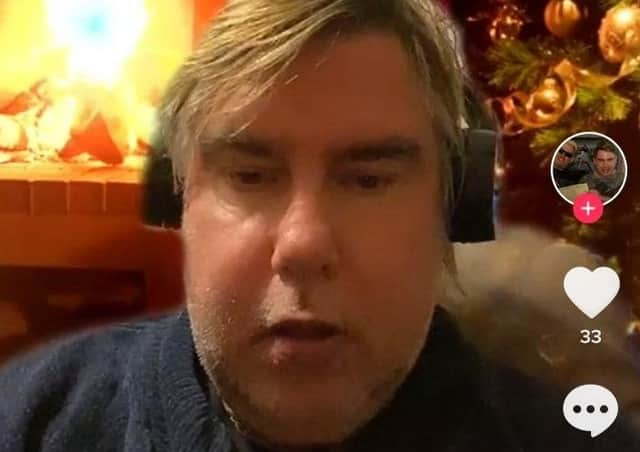 Paul Martin in one of his videos. Image courtesy of Tik Tok.
Paul Martin has accrued more than 20,000 followers and almost 100,000 likes as people around the world click to watch his various videos.
Thanks to his performances, Mr Martin also has 234,000 people following him on the Instagram social networking site.
Mr Martin suffered a stroke six years ago and struggles with his aspects of his speech. However, this has not stopped him performing on the platform, collaborating with his friends and even using the split screen option to perform side-by-side with some of the world's top stars.
Paul Martin's lip synching performances on Tik Tok has seen him become an internet sensation.
Mr Martin, 52, who used a run a commercial cleaning franchise while living in America, said he joined the dancing and singing app during lockdown to keep himself occupied. He is now hoping to become the biggest Tik Toker in Bridlington.
Mr Martin, who lives on Marshall Avenue, said: "I have managed to get 20,000 followers on Tik Tok by lip-syncing to songs.
"Now I have 234,000 people following me on Instagram and it would be nice to become the biggest Tik Tok star in Bridlington. It would be great to get more recognition.
"The reason I have done so well on Instagram is that I already had 20,000 followers on Tik Tok.
"The people who liked my videos came over to my Instagram account. Which is great."