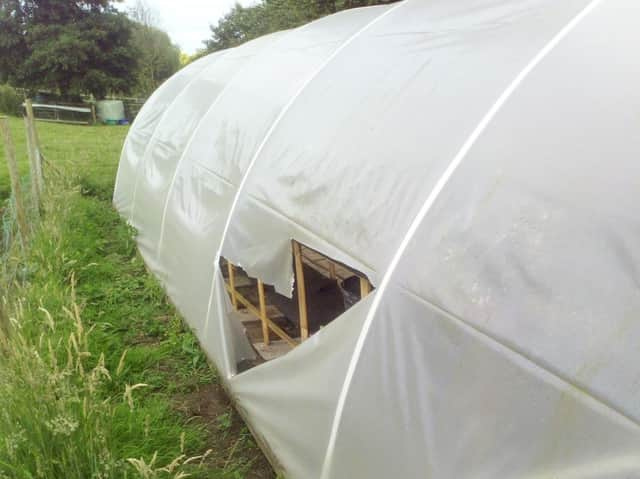 Damage to the polytunnel where the battery was stolen.
A polytunnel on The Carrs at Ruswarp used by Whitby in Bloom has been slashed open and a large battery and converter taken from inside.
The battery is used to power a pump which keeps the plants inside the tunnel watered.
Without a working pump, volunteers face having to spend three hours a day with a watering can keeping them fresh.
They say this is not feasible.
"It's quite a devastating blow," said Whitby in Bloom trustee Steve Smith.
"The polytunnel has been sliced open and someone has scrambled inside."
He estimated the battery will cost around £130 to replace.
Whitby in Bloom volunteers - who won Gold at last year's Britain in Bloom contest - have been busy with their efforts to enhance the town despite this year's Britain in Bloom competition being cancelled.
Anyone who would like to donate to the group or volunteer and help with their work can find out more and get in touch via its website.
Whitby in Bloom volunteers believe the theft happened sometime between 9am on Wednesday, July 15 and 9pm on Thursday, July 16.
Anyone with information about the theft should contact North Yorkshire Police via 101.
Information can also be passed on anonymously via Crimestoppers on 0800 555111.