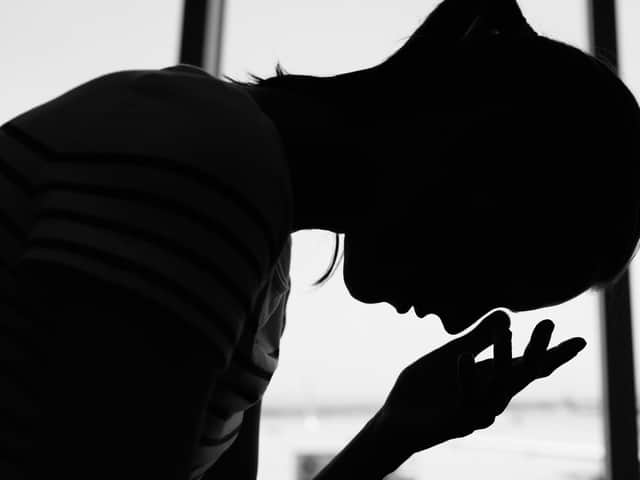 Changes have been made to the way we deal with criminals who commit domestic and sexual abuse. Picture: Adobe Stock Images
It means that the Government has enshrined changes into the law which seek to further protect women, girls and victims of all forms of abuse and violence.
Ranging from tighter laws on so-called 'revenge porn' and coercive control in relationships, to banning a controversial defence used in murder trials, the Ministry of Justice says the amended Domestic Abuse Bill will crack down harder on those who commit sexual violence and abuse.
Speaking about the changes, Domestic Abuse Commissioner, Nicole Jacobs, said: "So many campaigners, charities and individuals have worked incredibly hard to make the bill as robust as possible and there is no doubt that the legislation, which now includes non-fatal strangulation as a standalone offence, is much stronger as a result. 
"Legislation won't transform things overnight and we know there is more to do, so and I will work with partners to advocate for further changes."
Here is a summary of what the new changes to the law will be.
Non-fatal strangulation is now classified as an offence
Strangling or throttling a person without killing them is now an offence under the new Domestic Abuse Bill, and is punishable by up to five years in prison.
Children are now legally recognised as victims of domestic abuse
Young people who witness or experience abuse at home, whether perpetrated by a parent or the partner or a parent or family member, are now seen as victims in their own right. This means more help for social services and will aid in family and civil court proceedings. Similar to this, the new Bill bans anyone accused of domestic abuse to cross-examine their partners in family court proceedings.
These changes are no doubt brought about following the campaigning of Penistone mother Claire Throssell MBE, who has been campaigning for more rights for children affected by domestic abuse following the murder of her sons, Jack and Paul, after they were killed in a house fire started by their estranged father in October 2014.
Speaking about the changes, Ambassador for Women's Aid Ms Throssell said: "As a survivor and domestic abuse campaigner, the new act is a chance to make sure survivors are safe, protected and loved. The vital changes to the family court are long overdue and everyone accessing them deserves better. It is high time the family courts are safe and supportive, protecting victims and survivors instead of shielding perpetrators."
Banishing of the "rough sex" defence
The "rough sex" defence is now banned under the new Bill. This means that defence lawyers in trials for murder or serious violence cannot argue that a defendant and complainant were engaging in consensual sex that resulted in the complainant being killed or seriously injured.
The controversial use of the defence resulted in a public outcry following the New Zealand trial of British backpacker Grace Millane's killer in November 2019.
Offence of controlling and coercive behaviour extended to include separated couples
Laws around domestic violence have changed over the years to recognise other non-physical forms, such as perpetrators who exhibit controlling behaviour, emotional abuse and economic abuse. But the amendments to the Bill yesterday now further extend the laws over controlling and manipulative behaviour to include couples who are separated or estranged.
National Police Chiefs' Council lead for Domestic Abuse, Assistant Commissioner Louisa Rolfe, said: "Supporting victims of this cruel crime and bringing offenders to justice remains a priority for the police and we have improved our response to domestic abuse across the country. Police attend more than one million incidents of domestic abuse each year, yet we know many victims will still not come forward."
Authorities obliged to provide victims of abuse and their children with safe accommodation
Victims fleeing abusive homes have never relied on refuges and shelters more than they have in the last year due to the lockdown - as a result, many are full and unable to accept any more people, leaving victims with no choice but to return to their abusers. Under the new laws, local authorities have a legal duty to provide support to victims of domestic abuse and their children in refuges and other safe accommodation. Homeless victims are also prioritised under the new changes.
Farah Nazeer, Chief Executive of Women's Aid Federation of England, said: "We continue to urge for the law to address the significant gaps it leaves and protect every survivor, ensuring that all women and children are able to access support regardless of immigration status, and for us to see guaranteed long-term funding for specialist women's domestic abuse services, including refuge services around the country that are saving lives every day."
Extension of "revenge porn" law to include threats
The so-called revenge porn laws came into effect in 2015 when it became a sexual offence to share a person's private, intimate photographs without their consent. The changes to the Domestic Abuse Bill this week now also extend this to include anyone who threatens to share such photographs.
It follows campaigning from victims of revenge porn, including Love Island star Zara McDermott who has campaigned for changes to the law so that it may include a person who threatens their partner with sharing their intimate photographs.
Support The Yorkshire Post and become a subscriber today. Your subscription will help us to continue to bring quality news to the people of Yorkshire. In return, you'll see fewer ads on site, get free access to our app and receive exclusive members-only offers. Click here to subscribe.