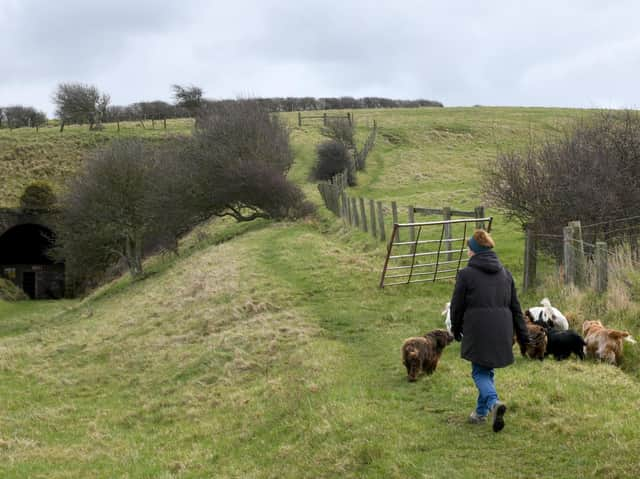 Dog walking in Sandsend, near Whitby
Inspector Martin Dennison spoke exclusively to the Yorkshire Post following an incident in which a man in his 20s was injured in a confrontation with a suspected thief while walking his dog in Pickering earlier this month.
Although the attempted theft is still being investigated, Inspector Dennison has assured dog owners that it is one of only three incidents of this nature that have been reported in the Scarborough and Ryedale area in the past two years, despite numerous social media posts referring to suspicious behaviour around pets in circulation.
Fears have increased among the dog-owning community during lockdowns as demand for new puppies has risen among buyers, leading to beliefs that criminals are stealing dogs to service this booming market.
In the first incident, a number of dogs escaped from a kennel after the door was interfered with, and all were later found. In the other, a dog that was allowed to roam free went missing and was later returned to its owner after being taken to a vet in a different force area to have its microchip scanned.
Inspector Dennison - himself the owner of a black Labrador - is at pains to reassure people that the risk of dog theft in North Yorkshire is exceedingly low and that the force sees no need for the action other forces, such as Nottinghamshire, have taken in appointing officers dedicated to tackling the crime.
"The threat to the public is incredibly low, and it isn't something that we as a force see as prevalent or a serious problem. I think these are offences which capture the public imagination because they are emotive - dogs are seen as family members. It's all about perception versus reality. Dog thefts are extremely rare, and we want to try and get across the message that it's not something to be overly concerned about."
Although missing and lost dogs are often reported, as is behaviour around dogs that arouses suspicion, it is only when there is tangible evidence that the dog has been stolen that there are further enquiries.
Inspector Dennison and his Ryedale colleagues have also had to calm rising fears in the Pickering area after they were passed information that members of the public were carrying weapons with them while walking their dogs.
"We were told an elderly woman was carrying a pair of scissors with her. Yes, people do have a right to defend themselves using reasonable force in a confrontation, but going armed on a dog walk is incredibly serious. If people arm themselves, the consequences for the dog owner far outweigh the risk of any theft."
He also responded to claims from dog owners that victims choose not to report thefts or attempted snatches because they have no confidence in the police taking action, or feel they would rather appeal for information themselves.
"I don't think it's a lack of confidence in reporting. We often get people who don't contact police if their shed gets burgled, because it's not seen as a serious crime and they don't want to be seen as wasting our time. But it's different with dog theft - dogs are very much part of the family and I don't think there's anyone that wouldn't take the theft of their pet seriously enough to report it.
"Social media can be a fantastic tool to get a message across, but you need to put caveats on anything you read, as there is a lot of misinformation. We often get reports of 'suspicious' vans and pick-up trucks turning in farm entrances which people link to dog thieves. You need to be mindul of the fact that posts can often contain inaccuracies or misunderstandings. Be cautious when reading and sharing posts as some issues may not be as they appear."
He addressed one of the most common 'urban myths' that circulates around dog theft - the belief that criminals use paint or chalk to make markings on or near the properties of dog owners they wish to target.
"There's absolutely no evidence that these markings are in any way linked to organised dog thefts or used to identify victims. They are usually put there by utility companies working in the area. Again, it's separating the myth from reality.
"Even among the reports we do get, it's very rare for there to be an actual confrontation between the thief and the victim - the Pickering incident was an isolated one. But when they do happen, the really capture public consciousness."
Inspector Dennison's primary advice to dog owners is to ensure that their pet is registered and microchipped - and points out that a lot of an animal's breeding or sale value to potential thieves is tied to this official documentation.
"An unchipped dog has limited saleability or availability because the breed history is tied to the chip.
"My main concern is that somebody could be harmed because of this reaction and the carrying of weapons. We are carrying out extra patrols in Pickering, but these are more for reassurance about a perception of threat rather than actual threat."
Ryedale Council are also supportive of North Yorkshire Police's approach to the issue.