North Yorkshire Police stop van driving the wrong way through A64 rush hour traffic
Two men have been arrested after a stolen van was driven the wrong way along the A64 in heavy traffic.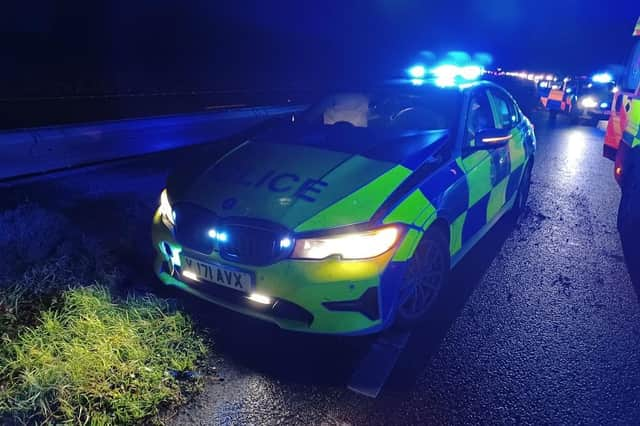 Police officers were forced to take immediate action to bring the van to a stop, to prevent a potentially lethal collision with members of the public.
The incident occurred on Tuesday evening (November 14).
North Yorkshire Police received information about a suspicious Peugeot Partner van heading towards York.
At about 6.20pm the van driver failed to stop for officers at the A19 Fulford Interchange, and instead joined the A64 – onto the eastbound carriageway, but heading west.
An officer from the force's Roads Policing Group was in a marked police car on the A64 eastbound carriageway, a few miles west of the junction, when he spotted the van travelling the wrong way, straight towards him.
Acting immediately, the police car made contact with the van to disable it and bring it to a stop. The van continued on for a short distance before the driver and passenger abandoned it in the road and ran off.
Other officers quickly arrived on the scene and began a search of the area, and two men were arrested in fields nearby.
A 52-year-old man was found hiding under a bush, and was arrested on suspicion of driving whilst disqualified, drug driving, dangerous driving, failing to stop and theft of a motor vehicle.
A 40-year-old man was arrested on suspicion of theft of a motor vehicle.
He had with him a young dog, which was taken to a vet to be cared for.
The Peugeot van had previously been reported stolen from the West Mercia area.
The officer involved was checked over by paramedics, but remained on duty.
The police car's airbags deployed, and it sustained damage, and was taken away to be repaired.
Given the circumstances, the incident caused lengthy delays on the A64, and police are very grateful for everyone's patience and understanding.
Both suspects remain in custody at this time.