Scalby School: Pupils to be back to face to face learning before half term following RAAC discovery
A school in Scarborough was asked to close some of its buildings after the discovery of Reinforced Autoclaved Aerated Concrete (RAAC) in August.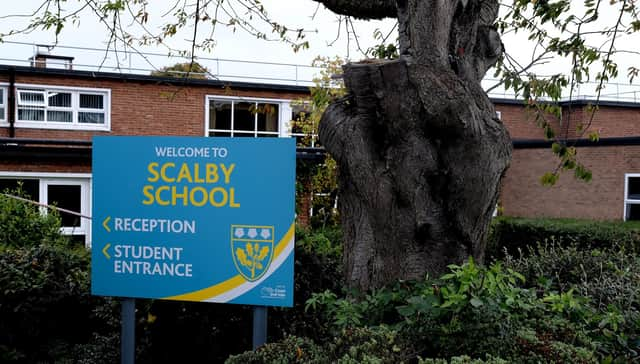 Scalby School was asked to close the buildings affected by the so-called crumbling concrete, which meant it didn't open for the 2023/24 school year until Monday, September 11.
The school is required to make suitable arrangements to continue the education of its 1,000 pupils until safety work can be carried out.
A spokesperson for Scalby School and the Coast and Vale Learning Trust told The Scarborough News: "Scalby School was instructed by the Department for Education (DfE) that there were immediate changes to the guidance in managing RAAC in schools.
"From this date, the school worked with local contractors who immediately stepped in to complete the work required."
Scalby School is the only school in North Yorkshire on the current Department for Education (DfE) list of 104 schools affected. The list was published on September 1.
Scalby School is a part of the Coast and Vale Learning Trust, who are working closely with the DfE, specialist surveyors and suppliers to ensure that Scalby School can offer the students and staff a safe environment in which to work and learn.
The Senior Leadership Team at Scalby School is driving to adapt the curriculum and the timetable as mitigation takes place and responding quickly with changes to access around the building.
The spokesperson continued: "Currently, Years 10 and 11 are on Scalby School site receiving full time face to face lessons. The Year 7s are based at Scarborough UTC for all their lessons.
"Years 8 and 9 are receiving a hybrid model of learning with both online and face to face lessons. The face-to-face lessons are taking place at Scalby School.
"Subject to the completion of the mitigation works, Years 8 and 9 will be back on the Scalby School site before the half term break. The head teacher, Chris Robertson, is updating parents and carers as the situation changes.
"The mid-term plans are for on-site modular buildings on site to support the loss of classrooms. These plans are with a surveyor working on behalf of the trust and Portakabin.
"There is hope to have decisions made regarding this before half-term, with an expected installation completion date of March 2024.
"Information regarding the timescales will be updated as these are confirmed so that students, parents, carers and staff are kept informed along with the wider community."
The DfE has indicated that Scalby School is now on the School Rebuilding Programme schedule. However, there are no more details available at this time.
The DfE will lead and support on these plans and details of this will be shared when they become available.