Scarborough sex pest jailed after being snared by paedophile hunters
A Scarborough sex pest has been jailed for over three years after he was snared by online paedophile hunters.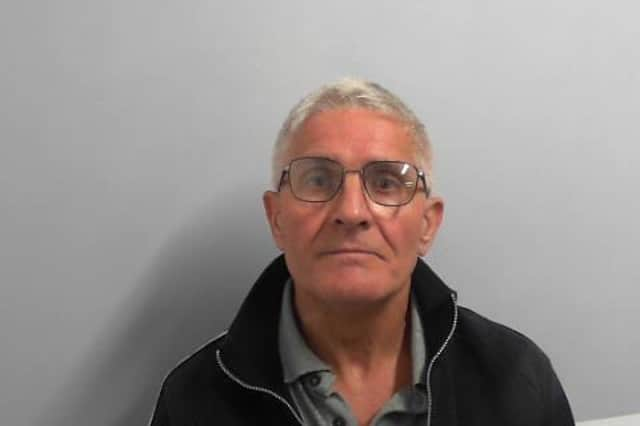 Phillip Wardle, 61, contacted what he presumed to be three under-age girls on social media, not realising he was talking to three adult decoys from a vigilante group, York Crown Court heard.
Prosecutor Samuel Ponniah said that Wardle, a married grandfather, targeted fake profiles set up on social media by a child-safety group based in the north of England.
On July 14, he used a profile with a false surname to get in touch with what he thought was a 13- year-old girl to whom he sent a "friend request".
After the girl told him she was 13 years of age, Wardle "repeatedly" asked her sexual questions and asked for photos of her. He also repeatedly made comments about her body.
"He also sent (the decoy) photos of himself in boxer shorts, asking her to zoom in," added Mr Ponniah.
On July 26, he sent the 'girl' a flurry of messages encouraging her to perform a sexual act on herself and "giving her specific instructions (on how to do so)".
Meanwhile, he was also messaging another 'girl' not realising he was conversing with an adult vigilante.
The decoy told him she was 13 years' old, but despite this Wardle "made sexual comments about (intimate parts of her body)" and "asked her about her bra size".
He then sent a series of "pestering" messages urging her to lock herself in her bathroom and send photos of herself wearing a bra. He also tried to initiate a video call.
In the same month, Wardle contacted another 'girl' and asked her to send him photos of herself in a sports bra and swimming costume. She too was encouraged to perform a sexual act on herself.
Wardle, who had a track record for similarly vile behaviour which he blamed on "boredom", admitted three counts of attempting to engage in sexual communication with children and two counts of attempting to incite a child to engage in sexual activity.
He appeared for sentence via video link today after being remanded in custody.
The court heard that in February 2020, Wardle received a six-month suspended prison sentence at York Magistrates' Court after being convicted of two counts of causing a child to watch a sexual act, attempting to engage in sexual communication with a child and attempting to incite a child to engage in sexual activity.
Described at the time as a "devoted" father and grandfather, he was spared jail on that occasion
despite engaging in "filthy talk" with two teenage 'girls' who also turned out to be adult decoys.
Wardle, of Hampton Road, urged those 'girls' to perform lewd acts on themselves, talked to them about sex and asked for sexualised images of them.
He was sent on rehabilitative courses as part of his suspended sentence to try to deter him reoffending, but to no avail.
Defence barrister Nick Peacock said the rehabilitation programme "clearly hasn't worked" in Wardle's case and he was now "fairly isolated" from his family.
He said Wardle had claimed that "boredom" was the reason for his warped online behaviour.
Judge Simon Hickey said that Wardle had used "grooming" techniques during his predatory behaviour and had been "fantasising" about under-age girls.
He said that Wardle presented a "serious risk of harm to children" and had displayed "dangerous behaviour".
Wardle was jailed for three years and four months and made subject to a sexual-harm prevention order, which will run for an indefinite period. He will remain on the sex-offenders' register.