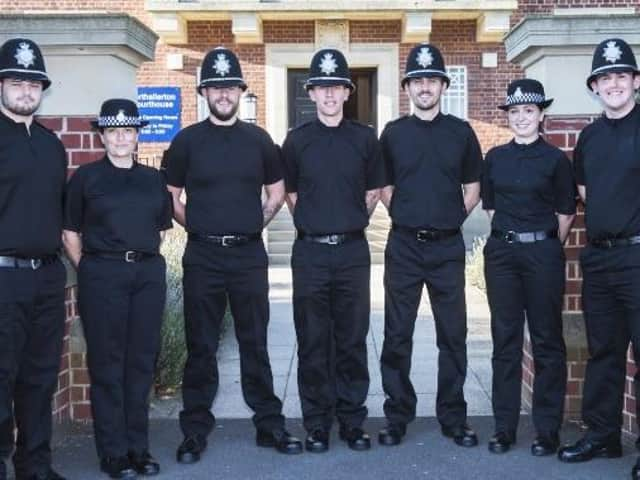 Special Sergeant Robson Harrison (far right) and other super Specials at their Attestation Ceremony in 2017.
He has been working alongside regular colleagues by using both volunteer days and his annual leave with his employer Sky UK.
He said: "Volunteering as a Special Constable is the most rewarding adventure I have ever undertaken, it is a role like no other.
"When carrying out duties, I normally support my local response teams which brings with it its own unique variety of fascinating challenges.
"Covid-19 has impacted all of us and has by far been the most challenging yet, this has been reflected more so by the fast paced and dynamic way in which we have had to adapt our policing skills to best protect the public throughout the lockdown.
"I am incredibly proud to be a part of and support a fantastic team of Special Constables who have selflessly and continuously worked to support the policing response to the coronavirus in the Scarborough, Whitby and Ryedale areas.
"Collectively we have totalled 600 front-line hours in these areas since the beginning of March despite the risks that face each and every one of us every time we turn up to a shift.
"My partner works in a hospital and unfortunately, she tested positive for the virus which was difficult for us both to apprehend.
"In a way, seeing how badly she was affected made me more determined to personally commit more time, to protect our NHS and to help keep my community safe."
North Yorkshire's dedicated Special Constables have contributed a total of more than 2,334 hours to support frontline policing since restrictions were put in place by the Government to combat the Coronavirus (Covid-19) in the UK.
A total of 55 Special Constables have completed 2,334 hours of deployment over 405 duties between Monday March 23 and Sunday May 17, as part of North Yorkshire Police's response to the fight against Covid-19.