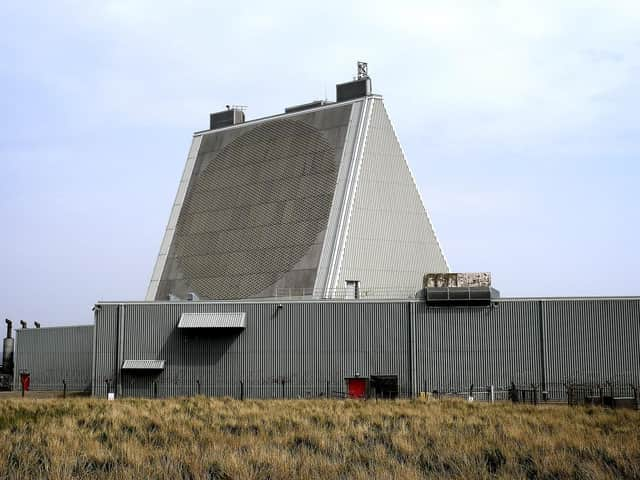 RAF Fylingdales.
Laura Woodwardsmith, 24, called North Yorkshire Police's control room to warn them that RAF Fylingdales in Pickering was about to be blown up.
"She was saying she was going to blow them up in the next half an hour," prosecutor Andrew Semple told York Crown Court.
"She said she had secreted explosives that had been planted around the perimeter of the base and told the police (operator) that it was serious."
Woodwardsmith, who gave the female operator her real name, said the explosives could be activated remotely by a mobile phone, adding that she was "just up the road (from the base) and had further explosives attached to her and that she was going to make her way towards the base".
She then contacted the base - an anti-ballistic-missile site dubbed 'Son of Star Wars' due to its strategic importance to both the UK and US governments' network of early-warning systems to prevent nuclear attacks - and repeated the same threats to a services officer in several phone calls.
Operational firearms commanders were instructed to call Woodwardsmith on her mobile but when they did so, she said she "had a bomb and was making her way to the base", said Mr Semple.
She rang back 50 minutes later, at about midnight on August 27, to say she had been "targeted by the Government and (that) she was a victim of gang-stalking".
She then demanded that "only Ministry of Defence police" should come to her home – a caravan in Goathland, where she lived alone with two dogs.
She said that if North Yorkshire Police turned up, she would "shoot them in the face".
Military commanders took the threat seriously enough to lock the base down for over four hours and call in armed patrol officers.
Security barriers remained closed between 12.14am and 5.30am due to "compromise to one of the most strategic assets in the country".
Military commanders finally managed to persuade Woodwardsmith that she should seek "immediate help" and call an ambulance because it was clear she was in the throes of a mental-
More than four hours after the initial alert was raised, police turned up at Woodwardsmith's caravan.
"Four officers attended at her remote caravan outside Goathland at 5.25am," said Mr Semple.
"By that time the defendant was in her nightie, half asleep. No explosives or firearms were found, but when told about her (imminent) arrest, she appeared to be revelling in the attention and was even to say, in excited surprise, that she had hoped to have been shot by officers."
Woodwardsmith was hauled into custody and admitted that she had hoped to have been shot "by way of suicide by police".
She told officers she had not been taking her anti-psychotic medication but admitted she had necked nearly two bottles of wine before the bomb hoax.
Woodwardsmith, who lives on farmland on Beck Hole Road, Goathland, was on a suspended prison sentence at the time for clobbering a man over the head with a bottle of wine, causing a cut which needed stitches and caused "intermittent amnesia". She also had previous convictions for battery and possessing Class B drugs.
She pleaded guilty to making a bomb hoax and appeared for sentence on Friday in a highly-emotional state.
Defence barrister Andrew Petterson said although Woodwardsmith had endured an incredibly "tragic" childhood, the chilling bomb hoax was an "exceptionally-serious" case, albeit "committed while (she was) in a mentally-distressed state".
Woodwardsmith, originally from Wales, had been receiving psychiatric treatment in Whitby.
She had left Wales as a youngster to escape her previous trauma and "ended up (in)… a remote part of the North Yorkshire Moors in order to try and stay out of trouble".
Judge Sean Morris told Woodwardsmith: "You have pleaded guilty to making a bomb hoax to one of the most sensitive military installations in Europe. They had to put in procedures, but it was obvious… that you were mentally unwell."
Mr Morris said that ordinarily an immediate jail sentence "ranging in years" would follow for such an "exceptionally-serious" offence, but because of Woodwardsmith's "horrendous" life and the fact she was clearly remorseful and had twice moved home "in an attempt to change your life", he would adjourn sentence for further intervention by the Probation Service and would ultimately give her a suspended prison sentence.
"You are a vulnerable young woman who has been doing her best to get herself sorted out and it's remarkable that you are not in an even worse state, knowing what I do about you," added the judge.
"That is the reason I'm taking this wholly-exceptional course (in not sending you to jail)."
Sentence was adjourned to allow the Probation Service time to put together an action plan to help Woodwardsmith. She will be sentenced on December 16 and was given bail until that time.