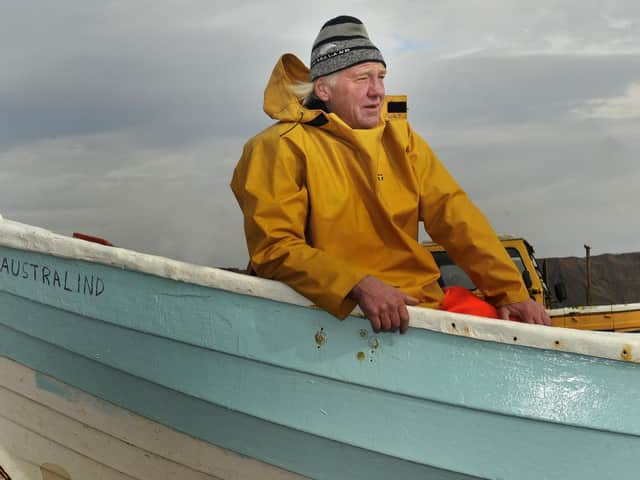 Fisherman Rex Harrison
That is the warning from a Filey fisherman in the wake of a decision by the Environment Agency which, he says, has not taken into account a 25,000-signature petition in support of the fishermen.
The Environment Agency has decided to cut the current season by a month – which will says Rex Harrison put all local fishermen's livelihoods at risk.
Already struggling with the impacts of Covid-19 – leading the fishery to temporarily close due to lack of access to markets – this is, he said, a devastating blow.
The Environment Agency has decided the consultation proposal to maintain the fishing season as it stands – allowing fishing for five months of the year – is not viable, and that fishing in Filey should be further curtailed.
It said that was the consensus of consultation but Mr Harrison said the response of the Filey Few - the six remaining fishermen in Filey bay - has not been included.
"We campaigned for two years to keep fishing in Filey – during that time we collected more than 25,000 signatures online and in-person. We submitted those signatures from the Filey fishermen into the consultation process – it's not listed as a response. Public opinion was on our side," he said.
Mr Harrison said the phraseology of the consultation is misleading: "The agency has listed this as a consultation to 'extend' the fishing season – this simply isn't true. We were asking not to have our season cut. We've been fighting this battle since 2018, and we don't understand why – our fishery is clean, low-impact and such an important part of the local community."
At-sea trials were held last year by the agency, with the cooperation of local fishermen, to determine whether the fishery has adverse impacts on endangered salmon stocks.
Across a given year, log-book data from the local fishermen shows they catch – and make a living from – around 5,000 sea trout per year.
Alongside those sea trout, roughly 90 salmon are by-caught each year, the majority of which are released alive within less than a minute of capture.
The trials concluded in agreement with the fishermen, with the consultation document stating that the impact of the fishery on salmon stocks was 'low', with modified nets able to successfully target sea trout. During the trials, only four salmon were caught in total, of which three were released in 30 seconds or less and the remaining one was badly damaged by a seal.
"With big-city markets currently shut due to the Covid-19 pandemic, fishermen in Filey face a tough year ahead, and this decision further curtails their ability to make a living from this heritage fishery," said Mr Harrison.
"Our best fishing months for sea trout are the summer months. We need to fish in August – we've shown we don't impact salmon, and we'll provide any data we need to, to help monitor sea trout stocks. My father was a fisherman – none of us have any interest in fishing in a damaging way. We just need enough time on the water to make a living", he said.