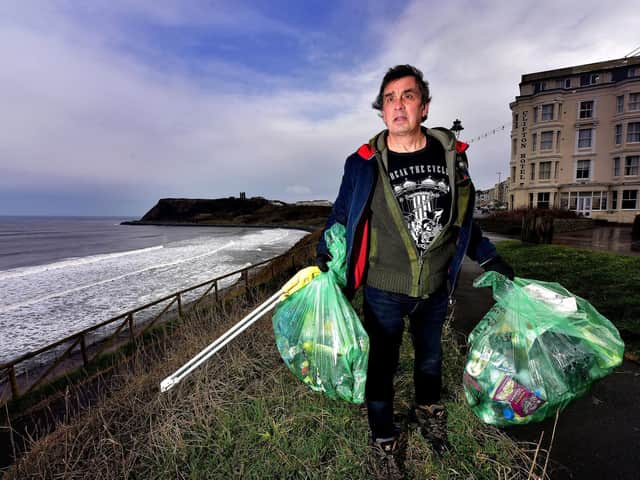 Mr Plant has been clearing litter since his dog was severely injured.
Mr Plant runs the Peasholm Park Vegan B&B alongside his wife Helen. They have had the business, on Victoria Park, for two years and are passionate about attracting visitors to the local area, but have concerns that this is going to become more difficult if the littering gets much worse.
In recent weeks Mr Plant has been out picking up litter every day after his dog, a three-year-old border collie called Smithy, sustained very serious injuries to his paw, that up to now have cost the couple £3,000 in vet's bills.
Mr Plant said: "He was simply playing ball on an embankment near Peasholm Park and he lacerated the skin, muscle and four ligaments, his foot was left hanging on by bone alone.
Smithy was injured on broken glass.
"The injury was so severe we were referred to a specialist in Tadcaster, we still don't know if the surgery has been a success.
"I have always picked up other people's litter, but not to the capacity I'm doing it now.
"I don't want anyone else's dog to suffer the way Smithy has."
Mr Plant is in regular contact with Scarborough Council about the littering, and the police with regard to the anti-social behaviour that often leads to the glass being smashed.
He said: "We would like to highlight the littering problem and hopefully get people to be more mindful of how their actions can have serious consequences for others.
"Our business, being in the hospitality trade, is already on its knees and once our guests are allowed to return to us, we think the least we can do is offer them an environment free of litter, broken glass and dog fouling.
"We should be cherishing our beautiful coastline and promoting Scarborough as an area that is a desirable place to visit."
A spokesperson for Scarborough Borough Council said: "We encourage all park users to act responsibly and not to litter. Not only is littering unacceptable, it poses a real risk to pets and wildlife, as we saw in this particular case.
"We believe the broken glass was a result of anti-social behaviour, which we are looking into in partnership with colleagues in our Community Impact Team."