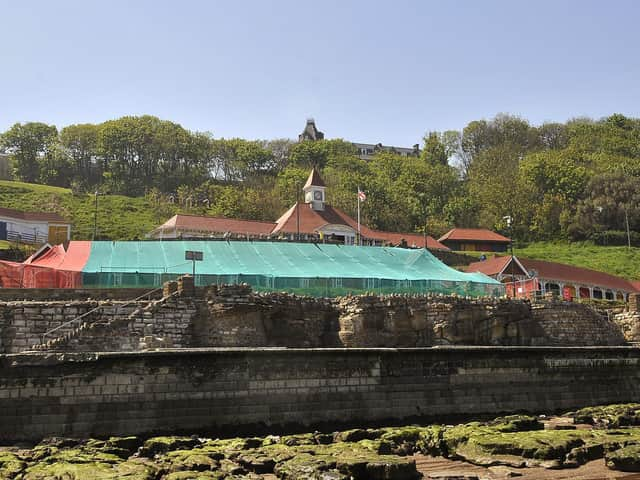 A collapsed wall near the Clock Cafe
The chalets, which sit below the Clock Café in the town's South Bay, were damaged by the failure of a retaining wall in March 2018 which left them leaning at a 45-degree angle.
A further slip in November of the same year destroyed most of the Grade II Listed chalets leading to their collapse. The area has been closed off ever since, restricting access to the café, a popular business with locals and visitors.
The authority's cabinet met last year and approved plans to repair the area so the chalets would be able to be restored.
On Tuesday, the council's cabinet member for environment and sustainability, Cllr Michelle Donohue-Moncrieff will be asked to approve the appointment of a new contractor to carry out work to repair the wall after the authority failed to agree to terms with its original choice.
A report prepared for Cllr Donohue-Moncrieff states: "Consultation has taken place with the tenant of the Clock Café by email.
"While her business is currently closed due to the Covid-19 pandemic she has
confirmed her preference is for the council to proceed with the works as soon as possible.
"If the Government allows the café to re-open during the contract period the business will still be able to open whilst works are ongoing."
CAN Geotechnical Ltd has been identified as the preferred tenderer to carry out the work, at a cost of £309,000.
The council last year also agreed to explore how to replace the chalets, with 11 earmarked to be constructed on the same footprint as the previous chalets.
Should Cllr Donohue-Moncrieff approve the contract CAN has told the council it can start work on the retaining wall at three weeks-notice with a completion date of mid-August as construction is legally allowed to continue during the coronavirus lockdown.