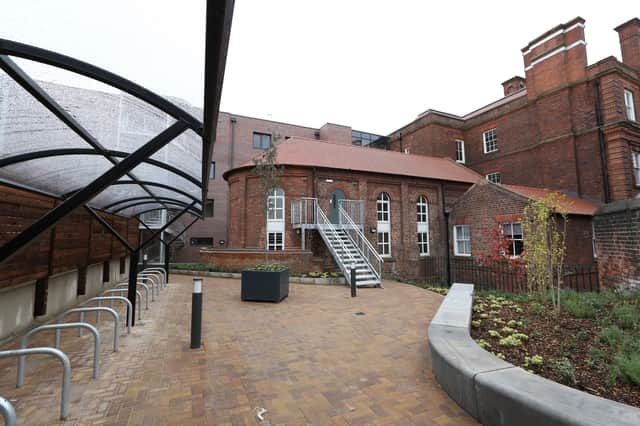 Student living these days can be more like high class hotels than the squalid digs of the past,
An £8.8m student accommodation development by Leeds-based Clegg Construction has just opened in Sheffield.
The scheme for Empiric Student Properties Ltd saw 107 rooms created at Provincial House in Solly Street, in the city's St Vincent's Quarter.
This Grade II listed property, a former presbytery built in 1878 which became offices in the 1980s, was redeveloped with 24 boutique and one bedroom apartments created over four floors.
Three new blocks were also built on adjoining land with a further 83 rooms .
Designed by Sheffield architecture practice Race Cottam Associates, the 23,600 sq feet development also boasts a gym, cinema, laundry and common room areas.
The development is in the Well Meadow Conservation Area and close to the University of Sheffield's North Campus.
Nottingham based Clegg, which has a Yorkshire office base in Leeds, started work in June 2016 and handed over in time for new students to move in for the start of the new 2017 academic year.
The completion of Provincial House means Clegg has delivered more than 1,200 student rooms across Sheffield in the past eight years, at a value of £44m.
Simon Blackburn, managing director, said: "This really was a fantastic project to work on. It was a challenging scheme. We had the need to preserve the heritage of Provincial House with it being grade II listed. Also we had the logistical challenge of working in a tight, built up city-centre location, which fortunately we are well used to as a company.
"The end product is really impressive and delivers a wide range of accommodation. Student property has been and remains a key market for Clegg Construction.
"Yorkshire is also a very important region for us and the pipeline of contracts for our Yorkshire office remains strong and our work is expanding."
Clegg Construction has just finished the redevelopment of Norwich Union House in Nottingham city centre which has provided 88 rooms for student accommodation and is also currently in Derby creating a 244 room scheme.
Clegg's Yorkshire office has already successfully completed a £6.2m scheme in the region, with a new HQ for O.E. Electrics Limited in Wakefield earlier this year, while work is ongoing in Leeds on a new Premier Inn in Headingley, valued also at £6.2m.