Here's the full list of the 2019 Scarborough & District Sports Awards winners
The 2019 Scarborough & District Sports Awards winners have been announced .... while adhering to social distancing rules.
Monday, 30th March 2020, 6:49 pm
Updated
Tuesday, 31st March 2020, 10:40 am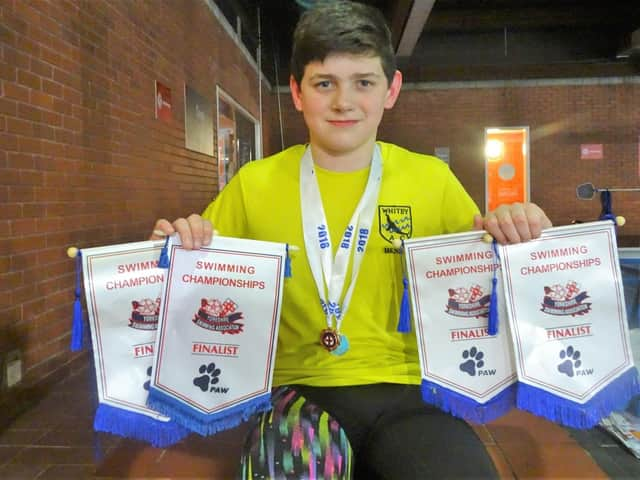 Junior Sports Boy Under-14 Henry Cornforth
The awards ceremony was supposed to take place at the Scarborough Spa's Ocean Room on Monday evening, but the outbreak of the coronavirus led to it being cancelled.
Instead, a video announcement was distributed on social media by SBC's sports development officer Matt Hewison.
Hewison said: "As ever the executive committee were blown away with the volume, standard and range of nominations we received this year, which makes the decision making process an unenviable task really.
Primary Sports Girl Under-11Mia Longman
"Obviously we have not been able to deliver the event at the Spa, but we wanted to make the announcement on the same evening to recognise all the winners and ensure they enjoyed a full year as the category winner.
"Hopefully we will see the safe return of local sport soon to enable us to have the same standard of nominations at next year's event.
"Everyone on the committee would like to congratulate all the nominees and winners for their fantastic achievements and for putting the Borough on the sporting map."
Last year's winners show off their silverware in the Spa's Grand Hall
Primary Sports Girl Under-11 / Mia Longman (runner-up Eleanor Walsh)
Primary Sports Boy Under-11 / Thomas Whitehead (runner-up Ryan Soutar)
Junior Sports Girl Under-14 / Beth Hiley (runner-up Brooke Mason)
Junior Sports Boy Under-14 / Henry Cornforth (runner-up Ozzy Stringer)
Junior Sports Girl Under-14Beth Hiley
Junior Sports Girl Under-16 / Katie Lancaster (runner-up Caitlyn Elworthy​)
Junior Sports Boy Under-16 / Tom Parkin (runner-up Serhii Popov​)
Junior Sports Girl Under-18 / Amy Corcoran (runner-up Phoenix Sykes)
Junior Sports Boy Under-18 / Finnian Hutchinson (runner-up Elliott Hatton)
Top Primary Team Under-11 / Scarborough Gymnastics Academy – Primary Squad (runner-up Wheatcroft School – High Five Netball Team​)
Top Playing Team Under-18 / Desapline Martial Arts Academy (runner-up Scarborough Gymnastics Academy Junior & Youth Team Gym Squads)
Top Female Achiever / Rhona Marshall
Top Male Achiever / Jack Bird (runner-up Barrie Fewster)
The Lesley Gillatt School Sport Teacher of the Year / Mark Vasey (runner-up Robbie Hawkes)
Inclusive Sport Award / Woodlands Academy Netball Team (runner-up Desapline Martial Arts)
Top Playing Team Senior / Whitby Golf Club Ladies Section (runner-up Scarborough Hockey Club Ladies 1st Team)
Top Community Sports Club / Scarborough Disabled Swimming Club (runner-up East Coast Tigers Cheerleading)
Coach of the Year / Bob Cross, Graham Middleditch & Patrick Corbett (runner-up Jess Mortimer)
Sports Volunteer of the Year / Charlotte Sixsmith (runner-up Jacqueline Livera)
Service to Sport / Allan Burnett
The Mavis Clayton Memorial Trophy / Jack Bird