House prices set to go up in the New Year
Monday, 12th November 2018, 9:45 am
Updated
Monday, 12th November 2018, 5:32 pm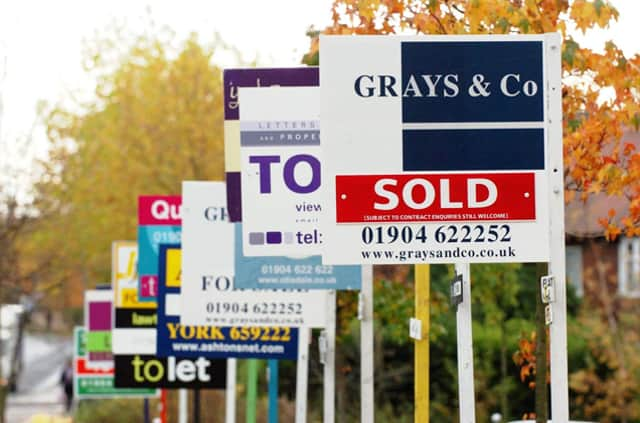 House prices are predicted to go up across Yorkshire in the New Year.
A fall in interest from new buyers in Yorkshire and Humber led to a downward trend in the region's house prices last month, according to the latest Royal Institution of Chartered Surveyors' UK Residential Market Survey.
But prices are likely to rise again over the coming 12-months, largely due to the ongoing lack of sales stock coming on to the region's housing market.
During the month of October 21 per cent more agents in Yorkshire and Humber reported a rise in house prices (down from 30 per cent in September).
Comparatively, house prices were reported as falling or flat in other UK regions last month including London, South East, East of England and Wales, but prices remained strong in the East Midlands, Scotland and Northern Ireland.
The weaker trend in prices in some regions is being driven by the lack of demand from new buyers, which is seen in part to be a result of heightened political uncertainty, ongoing affordability pressures, a modest upward move in interest rates and a lack of fresh stock coming onto the market.
In October, agents in Yorkshire and Humber reported a fall in buyer interest for the second consecutive month.
However, 27 per cent of respondents in Yorkshire and Humber are confident house prices will rise over the coming 12-months, as the prevailing lack of housing stock for sale - of all tenures – in the region is predicted to push prices higher.
Virtually all UK regions saw a decline in new instructions last month, as average stock remains very close to an all-time low. A net balance of 30 per cent of respondents reported the number of appraisals to be down on year on year basis.
So sales remain subdued in Yorkshire and Humber, with agents reporting a third consecutive monthly decline in sales transactions. Sales were reported to be either flat or negative across eleven of the 12 UK regions or countries during October.
Mark Hunter of Grice and Hunter in Doncaster said: "Mid-September to the end of October did not see any seasonal upturn and the level of new instructions and requests for valuations is at an all-time low.
"Unfortunately, we will now be in limbo until at least mid-January."
In the lettings market, the quarterly (seasonally adjusted) data revealed tenant demand fell during the three months to October.
Alongside this, landlord instructions also declined, and on the back of this, only nine per cent of respondents expect to see rents rise over coming months, albeit only modestly.
Alex McNeil of Bramleys in Huddersfield said: "The lettings market continues to be stable with low levels of rental growth. There is a shortage of 3 and 4 bed houses available to rent, and some reluctant landlords starting to consider whether now is the time to sell."
Simon Rubinsohn, RICS Chief Economist, said: "Uncertainty about the economic outlook on the back of the never-ending Brexit negotiations appears a key drag on sentiment according to respondents to the survey.
"Meanwhile, the announcement of the extension of Help to Buy, albeit in a narrower format, should continue to underpin the new build market in the near term.
"Whether it, alongside other measures recently announced including the lifting of the HRA cap, is sufficient to drive housing starts up to the government's 300,000 target over the coming years remains to be seen."