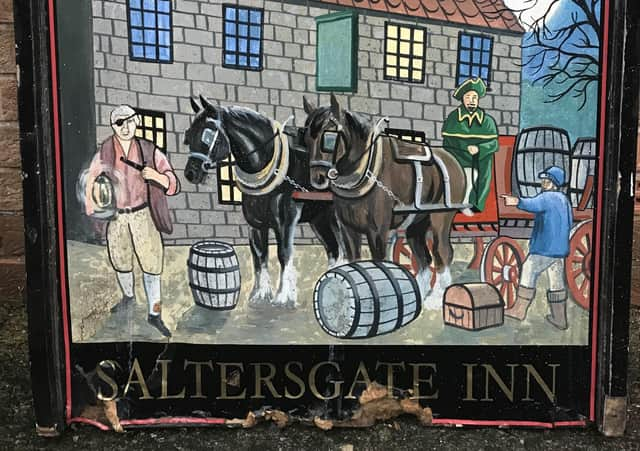 The sign from the now demolished Saltersgate Inn has been restored.
A relative of Alex's is a builder who had the contract to demolish the moorland pub – renowned for the fire in the grate which, according to legend, was never allowed to go out.
But from the demolition the old pub, on the Whitby to Pickering road, the sign was saved –and it lay for some years in a builder's yard in Pickering.
Then, by chance at a family gathering in the autumn, the story of the sign was mentioned to Alex and he was offered it if he wanted it.
Alex told the Whitby Gazette: "I immediately accepted, collected it when I was next in the area, took it to my mother's place in Whitby and gave it a wash and brush up.
"I then offered it to the Ryedale Folk Museum in Hutton-le-Hole which has kindly offered to give it a new home.
"So that is where it is headed and with – I understand – the kind blessing of the last owner of the inn.
"So although the Saltersgate is long gone, a little part of it will now live on."
The pub was pulled down in September 2018 in order for a single storey cafe and tap room to be built in its place.