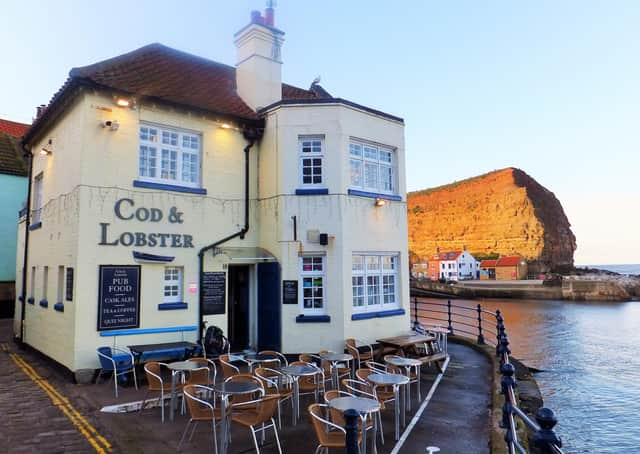 Cod and Lobster, Staithes.
Starting at the main bus stop on the A174 at Staithes top, head along the road towards Whitby.
More or less opposite the Co-op, take the marked footpath through a kissing gate (manufactured by someone who makes Kate Moss look like Hattie Jacques), heading inland along a squelchy track.
This soon leads you to the access track for Seaton Hall, an impressive old Manor House that now offers accommodation, the Barn Owl café and an antiques showroom.
A check on t'internet when writing this column suggested that I maybe should have gone in for a look round. A BBC guide says that the place was bought in 2002 as "a wreck" by one William Kidd (I wonder what his nickname was at school…..).
He is described as having boundless energy and put that to good use as he indulged in his passions for gardening, art collection, property renovation and more. Panelling from John Lennon's home, objets d'arts, old furniture, paintings and sculpture festoon the maze of rooms in the hall, and outside he has planted 30,000 trees and is hoping to create a plantation of tea plants on south facing slopes.
I'm not sure how old that BBC article is, so I've made a mental note to visit properly next summer and perhaps have a pot of genuine Yorkshire tea.
Turn left, away from the Hall, along a wide track that soon rejoins the A174. Just ahead of that
Clifftop crows in Staithes.
junction, go right along tarmac that leads slowly downhill.
As it heads further right and more steeply down, take an unmarked but well-trodden path on your left ahead of thicker bushes and adjacent to a big drain cover.
Stay right of a waymark to follow the track on level ground above a Northumbrian Water building, eventually dropping steeply down some huge steps to a better path heading left through the woods.
Try to ignore the moron with a shotgun peppering anything that moves and embark on a long climb takes you back up to the main road which you should directly cross to follow a marked path leading up through a field.
The gain in height affords some fabulous views back to Borrowby, the starkness of the Boulby Potash mine and the high cliffs beyond Staithes.
I also enjoyed watching a kestrel patiently hunting for dinner and with due regard for any passing field mice, I hope it eventually enjoyed a hearty meal.
The path turns sharp right at buildings to reach the road at Port Mulgrave - turn left and head for the sea.
The old harbour is down a precarious path which collapsed in storms a couple of years ago.
I imagine a new route down has been established to enable locals to attend their boats, but the possibility of a 300ft muddy slide persuaded me to give that a miss and stay left on the Tarmac.
Port Mulgrave was built on the 19th Century to transport local ironstone to the industrial towns further north.
In fact, you've been more or less following the line of a tunnel built from the Borrowby and Grinkle mines beyond Seaton Hall, which emerged above the busy piers jutting into the sea.
By 1920, the port was redundant and left to decay – in fact part of it was later deliberately destroyed in case those unscrupulous Nazis tried to use it as a handy place to leap ashore.
Judging by the signs for Project Kraken, there is still a threat from the Port's remains.
Project Kraken is an initiative involving North Yorkshire Police asking for public vigilance to prevent smuggling of contraband and people in these remote areas.
Commendably though, the project has been expanded to raise awareness of vulnerable people who may look to self-harm or commit suicide on these high cliffs.
Sobering but praiseworthy stuff. The TWarmac ends at a large house/farm, but the path continues along the cliff edge, wending its way to Staithes.
This is a lovely and grassy stretch of the Cleveland Way, including a new section of the English Coast path hugging the cliff.
You can take a shortcut if you wish, but that new bit of path affords a truly stunning view of Staithes harbour near the end, which I shared with Molly (pictured inset), a precocious little dog, and her amiable owner.
On reaching the farm above Staithes, turn right down the stony gully to eventually emerge on the harbour front right next to the excellent Cod and Lobster pub.
You'll need to rest here for an hour as the road back up to the bus stop is seriously steep. Hmmm, make that two hours.
Here's wishing all Gazette readers, a Happy New Year!