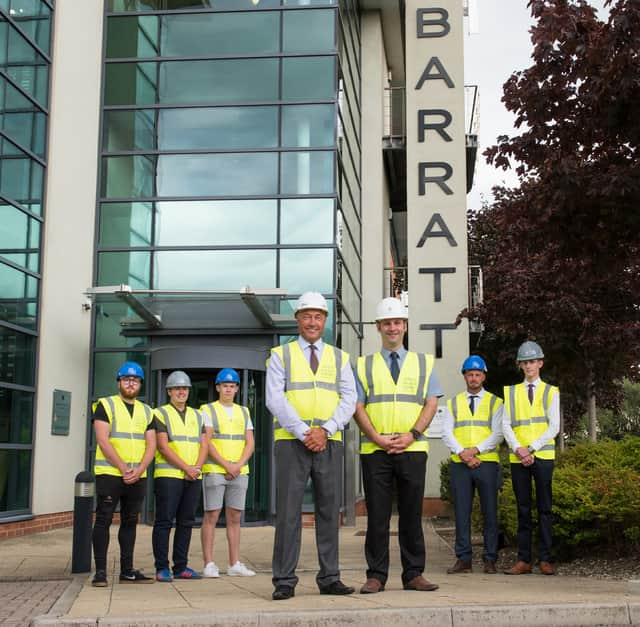 Five new apprentices are beginning new careers with Barratt Developments in Yorkshire.
The three new joiners and two new bricklayers, are the latest intake of apprentices to start their construction careers with the housebuilder, as part of its apprenticeship scheme.
This year sees apprentices located across the region, with Darren Emmett, 33, working at Weavers Chase in Golcar and Oliver Depledge, 18, at Evolution in Waverley, both joiners.
Apprentice bricklayers include Louie Evans, 18, who will be working at Chapel Lea in Flockton; Dominic Dodd, 17, at Salter's Brook in Cudworth and Luke Rhodes, 22, at Hewenden Ridge in Cullingworth
This year's scheme at Barratt Developments Yorkshire West builds on the appointment of five apprentices in 2017, with a total of 39 apprentices taken on over the past 10 years.
Barratt Developments' programme includes vacancies for trade or commercial and technical apprentices, and offers applicants the opportunity to become experts in their chosen field of work, while earning.
The apprentice scheme is also designed to help address the wider skills shortage currently faced by the construction industry.
Barratt Developments' Apprenticeship Programme has been recognised by industry bodies as the best of its kind in recent years including the CITB Apprenticeship Awards, the Top 100 Apprenticeship Employers, and National Apprenticeship Service's BT Macro Employer of the Year Award
Darren Johnson, Construction Director at Barratt Developments Yorkshire West, said: "We are delighted to welcome five new apprentices to our sites across West and South Yorkshire this year. We are keen to encourage more young people into the construction industry, and offer them the opportunity to develop the necessary skills to have a long and successful career with us. Many of our senior team members started as apprentices so we are looking forward to watching our new recruits learn, progress and become integral members of our team for the future."